New Illinois Law Orders You to Take Action When You See Hazard Lights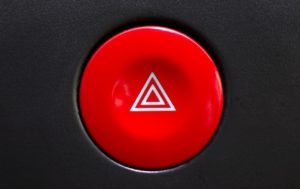 Years ago, an emergency responder was tragically killed when a driver crashed into him while he was responding to a roadside emergency. The result is known as "Scott's Law," and it requires that, whenever an emergency vehicle has its hazard warning lights activated, be they blue, red or amber, upon any highway with at least four lanes of traffic, of which no less than two go in the direction of the hazard vehicle, that any approaching vehicles must either move over to a non-adjacent lane, or greatly reduce speed to pass with caution. Violations of this ordinance are considered a business offense punishable by a fine of $100.00 up to $10,000.00, and can result in suspension of driving privileges upon a conviction.
Effective January 1, 2017, a new statute similar to "Scott's Law"( which controlled the movement of motor vehicles in traffic), will now apply to any and all disabled or stationary vehicles, stopped with its hazard lights blinking, not just emergency vehicles. So any regular vehicle in what may be deemed a hazardous situation is now protected in the same manner. Newly enacted Section 11-907.5 of the Illinois Vehicle Code provides that under those circumstances, a violation of this statute is a Petty Offense, punishable by a fine only, not greater than $1,500.00. The purpose of the law is clear: it serves to offer additional protection to anyone that finds themselves with a need to pull over to the side of the road for any emergency, as long as he or she activates the hazard warning flashers on the vehicle. This requires other motorists to give a wide berth when passing, thus making a collision less likely to occur.
In the past, one might have moved to the left as a courtesy to a disabled vehicle's occupants. Now, it is required, and if a police officer happens to witness your failure to do so after the New Year, you will be stopped and ticketed. If that happens, or if you happen to be charged with any criminal or traffic offense, you will need an experienced traffic violation lawyer to fight for your rights in court. Call us at Mitchell S. Sexner & Associates LLC. Our lawyers have the experience and know-how to protect your rights, your name, your driving record, and your freedom. Just dial (312) 644-0444 today to schedule your free, no obligation, confidential consultation appointment. With offices located in Arlington Heights and Chicago, and other locations to serve you, call us 24 hours day.