Chicago Driving with a Suspended, Revoked, or Invalid License Lawyers
The State of Illinois requires every operator of an automobile to be licensed by the Secretary of State so that they can control who is qualified to drive and who is not. The licensure requirements allow the state to exclude bad drivers and unsafe drivers who cannot operate a vehicle properly. Unfortunately, as a result of our mobile society, it has become more and more difficult to earn a living, get food or provide for oneself without the assistance of a car. So those without a license often find themselves in a position where they feel that they "must" drive.
Who is Eligible for an Illinois Driver's License?
Both citizens and certain non-citizens are eligible for a license. In the case of U.S. citizens age 21 or over, such people can obtain an Illinois driver's license by visiting a Secretary of State facility, providing sufficient identification to prove citizenship and Illinois residency, taking a road test, a written test, an eye test and paying a modest fee if they pass the tests. For citizens who are younger than 21 years old, the rules however require the following:
Applicants age 15 (permit phase)
Guardian or parent must consent to receive an instruction permit
Needs to be enrolled in a driver's education course
Must pass both written and vision tests
Needs to practice driving supervised at least 50 hours total with 10 night hours
Must avoid any driving convictions during the permit period
Certain restrictions on number of passengers apply
Applicants age 16 to 20 (initial licensing phase)
Guardian or parent needs to certify that all practice hours completed
Guardian or parent must consent to teen obtaining a driver's license
Must have completed an approved driver's education course
Must avoid any driving convictions for the 6 months before turning 18
Certain restriction on passengers and hours of operation applies
First time applicants age 18 to 20 who haven't completed a driver's ed course must complete an Adult Driver Course through the Secretary of State
Can Non-Citizens Also Get an Illinois Driver's License?
Yes! Fortunately for undocumented immigrants, the State of Illinois passed legislation in 2013 that allows the issuance of a driver's license under certain strictly controlled circumstances. This type of driver's license for undocumented non-citizens and non-visa status individuals is called a Temporary Visitor Driver's License (TVDL).
What is a TVDL?
A TVDL is valid for driving purposes and possesses all the same rights and responsibilities as a regular driver's license issued to a U.S. citizen
A TVDL is not valid for identification purposes, just for driving
Once granted, it's valid for three years
A TVDL is only valid if the cardholder has valid vehicle liability insurance
A TVDL may not be accepted in states other than Illinois, so TVDL holders are advised to check ahead of time before entering other states
A TVDL is valid only the personal operation of a motorcycle or car
How Do You Get a TVDL?
You must show acceptable documentation to the Secretary of State to prove that you have lived in Illinois for more than the last twelve months
Show acceptable documents that prove where you currently live
You must not be eligible to receive a Social Security card
Show acceptable documentation proving your signature and date of birth
Take and pass the written test, vision test and road test
Pay a small fee for the license
As is true for a regular driving license, applicants age 18 to 20 must complete a six-hour adult driver's education class through the Secretary of State first
The TVDL will not be issued the same day. It will be mailed to the applicant later after the information has been verified
What Kind of Documentation is Required for a TVDL?
Provide an unexpired foreign passport or a valid Consular Card (the Secretary of State is currently accepting these from Mexico, Brazil, Guatemala, Columbia and Brazil)
Proof of written signature on a passport or Consular Card
Provide proof of residency for at least 12 months
Provide proof of your current address
Provide proof that your car you will be using for the road test is insured
Having trouble getting your driving privileges reinstated? Mitchell S. Sexner & Associates LLC can help. Call us at (312) 644-0444 to learn more.
What is Driving Without a Valid License?
Driving without a valid license includes not only those circumstances where a person has never had a license, but also includes those people such as those who did have a license but allowed it to expire. The vast majority of people charged with this ticket however have historically been those without social security numbers and consequently had been unable to secure a license from the Secretary of State. Since 2013, many undocumented immigrants have been able to secure TVDLs (as detailed above) and thereby avoid such violations.
Who is Required to Have a Valid Driver's License?
The laws about this that govern Chicago, Arlington Heights and all of Illinois are contained in our statute at 625 ILCS 5/6-101. This law says that everyone (except certain people listed below) need to have a driver's license, learner's permit or restricted driving permit in order to drive a motor vehicle on any "highway" in Illinois (which doesn't really mean only highways – it really means any public maintained street or road, no matter how small and whether it's paved or just gravel). The only persons who are exempt from this law are:
Employees of the US Government or members of the US Armed Forces when driving a US government vehicle while on official business.
A person who doesn't reside in Illinois, but who has a valid license from his home state or country in his or her possession.
A non-resident who is a student at an Illinois University or College along with his/her spouse and children if they live with him/her and have valid licenses issued by their home states.
Someone operating a tractor to conduct farming when on the way from farmland or farm buildings to other nearby land or buildings.
An Illinois resident who has been serving the US Armed Services is exempt for a period of 120 days after his/her return to the state.
A non-resident active member of the Armed Services as well as the member's spouse and dependent children living with them, as long as they have valid licenses issued by their home state.
A person who holds a valid license from another state or country, but who moves to Illinois to reside here is valid to operate a motor vehicle with a foreign license for a period of 90 days only, after which they must surrender that license and obtain an Illinois license.
Crew members of trains or locomotives do not need a driver's license to operate their trains in Illinois.
Drivers are not allowed to hold two valid licenses from two different states or countries at the same time. Except for drivers who hold an out-of-state permit or Commercial Driver's License (CDL), all others must surrender their out-of-state licenses if they are eligible for an Illinois license and wish to obtain one. A failure to inform the Secretary of State (SOS) of the existence of another license may be grounds to revoke or cancel that person's license in Illinois.
Who is Not Eligible to Obtain an Illinois Driver's License?
Although all Illinois residents who are US citizens or undocumented immigrants (who qualify for a TVDL) are typically eligible for an Illinois license, there are some exceptions. Some of these people who may be ineligible including:
People who use alcohol or drugs to a degree that makes them incapable of driving a motor vehicle safely
People previously determined to be suffering from a disease or disability and have not been deemed competent
People who are required by the Secretary of State to take an alcohol, drug or other examination until successful completion
People who are required to submit proof of financial responsibility or a security deposit (typically refers to those involved in uninsured accidents or tickets for no insurance)
People that the Secretary of State have a good reason to believe that due to a mental or physical disability are unable to drive safely and haven't satisfactorily convinced the SOS that they are no longer a potential danger. Such a loss of privileges is usually initiated by a police officer, a prosecutor or a judge by contacting the SOS of their beliefs. Once such a loss of privilege occurs, the driver must present a verified written statement from a medical professional that satisfies the SOS that the driver will not likely be a danger to others.
People age 69 and older, unless they comply with certain provisions in the law that require more frequent eye testing and road testing for senior citizens
People convicted of certain sexual offenses within 12 months of license application
People who have been convicted (or adjudicated in Juvenile Court) of a violation of Illinois Acts relating to Controlled Substances, Cannabis, or Methamphetamine while in the actual physical control of a motor vehicle
Drivers under the age of 18 who have committed a violation for Driving Without a Valid Driver's License
People who are more than 90 days in arrears on their child support obligation and who have been found to be in contempt of court due to their delinquency
People who were imprisoned due to a conviction for Involuntary Manslaughter, Reckless Homicide or Aggravated Driving Under the Influence of Alcohol/Drugs or such if the violation was the proximate cause of another's death
People who try to influence or bribe anyone associated with administering or granting driver's licenses
People whose information or documentation the Secretary of State cannot confirm the accuracy of
People who were adjudicated delinquent in Juvenile Court for an offense related to gang activity and involving the use of a motor vehicle
What Are the Potential Penalties for Driving with an Invalid License?
Regarding those charged with the crime of not having a valid regular license or a TVDL, although this violation is typically charged as a Petty Offense, the consequences can also be severe as this offense may be treated as a Class A misdemeanor punishable by up to one year in jail and up to $2500 in fines, for instance if the driver is a Registered Sex Offender and has failed to register. Representation by a knowledgeable attorney is therefore very important in this situation because even if the defendant is not sentenced to jail, a conviction on this offense may suspend that person's privileges to drive in the future.
What is the Difference Between Supervision and Probation?
The most common concern that most people have about getting ticketed for this violation is the effect on their driving record. If a driver receives a Court Supervision on this charge, then there is typically no effect at all on their record (other than the obvious notation on the record once the court reports its findings to the SOS). Of greatest importance is that if Supervision is received, it doesn't affect the driver's ability to get right to work to fix whatever is holding back their driving privileges.
On the other hand, if a conviction is received on the charge (also known as Conditional Discharge or Probation), once this is reported to the Secretary of State (SOS), the SOS will swiftly suspend that person's right to drive for a period of three months or longer, and in the case of certain drivers under 21, may delay their ability to obtain a full license for an even greater period.
What Difference Does It Make if my License Gets Suspended When It's Already Invalid?
Some common questions from clients are how it's even possible to suspend my license if I never even had one in the first place and possibly may not even be eligible to receive one? And even if it's possible, what difference does it make? First of all, yes, the Secretary of State can do that, and it does it probably hundreds of times a day. That's because they're not really suspending your "license" (which you don't have), but they're suspending your "ability to obtain a license". Getting your license suspended (even if you don't have one or can't get one) is still very problematic for two main reasons:
First, maybe there's not much wrong with your driving privileges and your lawyer can help you to do something very simple to reinstate your license. For instance, if your license is invalid because it's just expired, maybe all you have to do is go to the SOS and take a new picture and pay a small fee. But if you get your ability to obtain a license suspended, you may have to wait 3 months, 6 months or even longer to renew your license because the suspension will stand as a roadblock in your way, preventing you from getting it renewed. As a result, you'll be without any license for an extended period time, and subject to arrest if you get caught driving a car during that period.
Secondly, and of equal or greater concern, is that generally Driving Without a Valid License (also known as a 6-101) is usually charged as a petty offense, which means that normally, driving without a valid license not only won't, but actually can't land you in jail. That's because a Petty Offense doesn't allow for jail, so no matter how bad your record is and how much the Judge doesn't seem to like you, it's just a money fine. But what happens if you allow your license to get suspended because you received a conviction on a No Valid License ticket? And then you get caught driving? Now, you're subject to potential imprisonment because suspended license violations are usually charged as Class A misdemeanors, which means jail is now on the table. So, by allowing your Invalid License to become a Suspended License, you're putting yourself in even greater danger if you are caught driving.
So basically, it's not good to drive if your license isn't valid, but it's really not good to drive if your license is suspended or revoked. That's why if there's any way to avoid a suspension, an experienced legal team such as the attorneys at Sexner & Associates LLC will always try their best to avoid such suspensions and revocations. You can reach our offices 24/7 at (312) 644-0444.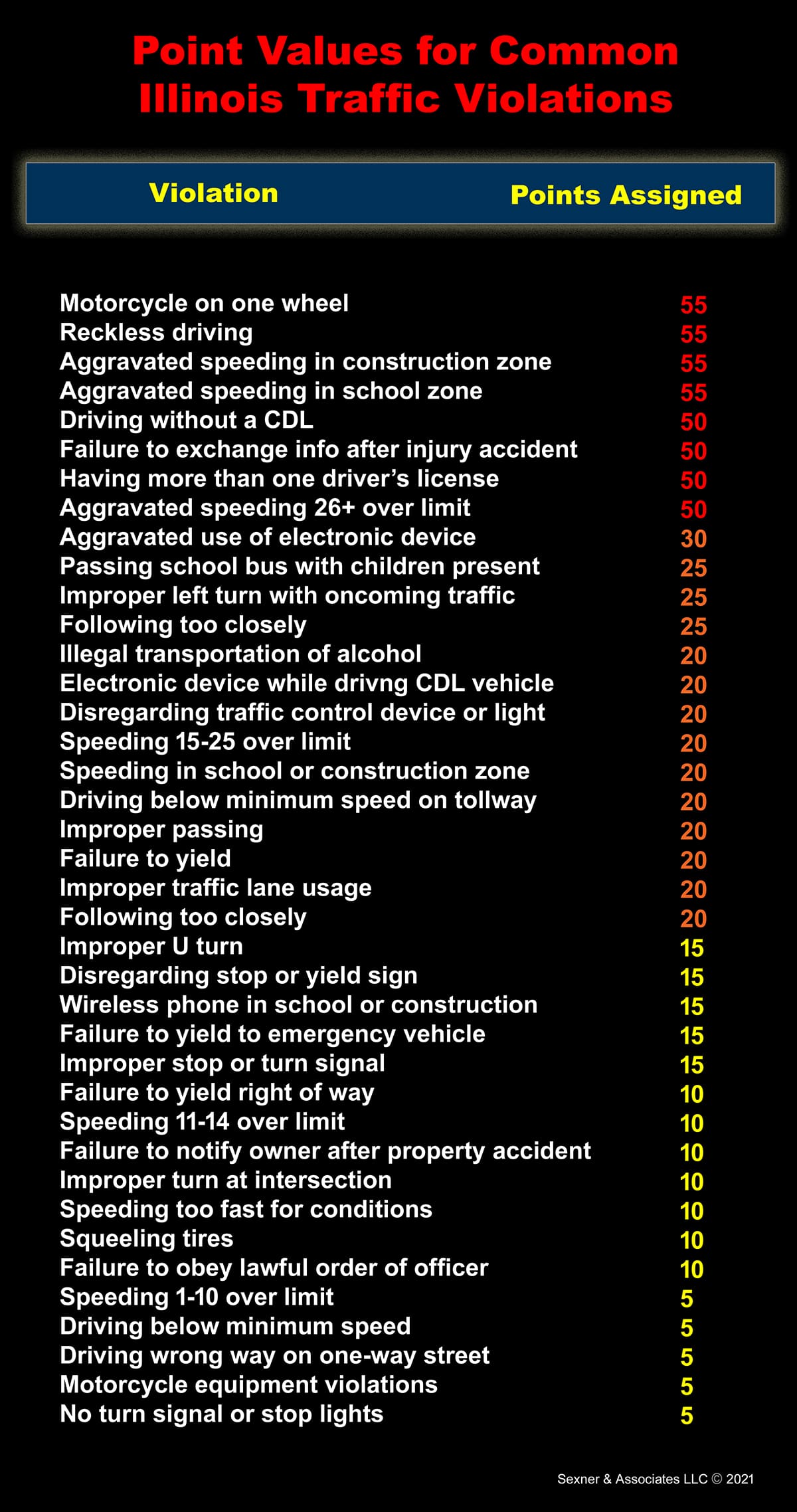 What is Driving on a Suspended Driver's License?
In Illinois, a suspended license generally means that the person's driver's license has been taken away for a particular period of time or that the suspension can be terminated upon completion or satisfaction of a particular requirement. So, whereas the path to fixing a revoked license or an invalid license may sometimes be very long and uncertain, a driver with a suspended license usually has a clear path to reinstatement if the proper steps are taken.
Some of the most common examples of suspensions and some of the solutions that an experienced traffic attorney will employ include:
Suspension for too many moving violations
A suspension for too many movers (also known as a 03 suspension) happens when an adult or minor gets too many moving violation convictions with a certain time period. In the case of an adult age 21 or over, it takes 3 convictions on moving violations within a 12-month period (not a calendar year, but a rolling 12-month period) in order for a suspension to occur. In the case of a licensed driver under the age of 21, the general rule is that the license would become suspended if the driver received 2 or more moving violation convictions over the course of a 24-month rolling period before they reach the age of 21. Our legal team will typically explore whether one or more of the convictions can be overturned (known as a Motion to Vacate) in order to rescind (which means to undo) the suspension. If vacating one or more of the convictions can be accomplished, it's like pulling one card out from the bottom of a house of cards; the whole suspension will collapse.
How Does my License Get Suspended for Too Many Convictions?
In many states, a driver's license will become suspended due to excessive "points". This refers to the facts that most moving violations are assigned a "point value" and when a certain threshold is reached and the driver has collected too many points during a specific time period, their license becomes suspended. But in Illinois, our system is not considered a pure point system. Instead, we have what is called a "modified point system".
In our state, when a person is convicted of a certain number of moving violations (3 in a 12-month period for adults or 2 in a 24-month period for those under age 21), then the Secretary of State (SOS) will calculate the point value of these convictions to determine the extent of the loss of driving privileges. But different that other states, there is no calculation at all until the required number of convictions has occurred during the required time period.
For instance, if an adult gets 2 speeding convictions (even serious, high-speed convictions) every 12 months, every year for many years, no action will likely be taken because they didn't get 3 convictions during any particular 12-month period. However, if they do get too many, then the SOS will calculate the penalty, The higher the point value, the longer and more serious the loss of privileges. Depending on the point total, the SOS may take administrative action to suspend a license for as little as 1 month, or in cases where the point total is very high, it can even result in a revocation (not a suspension) of the license. Here are some examples of the relative point values of certain common moving violations:
High point values between 50 and 55 include: Motorcycle on one wheel, Reckless driving, Aggravated speeding in construction zone, Aggravated speeding in school zone, Driving without a CDL, Failure to exchange info after injury accident, Having more than one driver's license and Aggravated speeding 26+ over limit
Medium point values between 20 and 30 include: Aggravated use of electronic device, Passing school bus with children present, Improper left turn with oncoming traffic, Following too closely, Illegal transportation of alcohol, Electronic device while driving CDL vehicle, Disregarding traffic control device or light, Speeding 15-25 over limit, Speeding in school or construction zone, Driving below minimum speed on tollway, Improper passing, Failure to yield, Improper traffic lane usage and Following too closely
Lower point values between 5 and 15 include: Improper U turn, Disregarding stop or yield sign, Wireless phone in school or construction, Failure to yield to emergency vehicle, Improper stop or turn signal, Failure to yield right of way, Speeding 11-14 over limit, Failure to notify owner after property accident, Improper turn at intersection, Speeding too fast for conditions, Squealing tires, Failure to obey lawful order of officer, Speeding 1-10 over limit, Driving below minimum speed, Driving wrong way on one-way street, Motorcycle equipment violations and No turn signal or stop lights
Statutory Summary Suspension
A Statutory Summary Suspension (also known as a 17 suspension) is a specific type of suspension that occurs only to those charged with a DUI and varies in length from 6 months to 3 years in length. In order to try to rescind that suspension, our legal team must file and then win a petition that must be filed with the court within 90 days of the DUI arrest. The most common bases to contest the Statutory Summary Suspension (SSS) include:
Police lack of probable cause for the initial stop or encounter
Police lack of probable cause for the subsequent arrest
Failure to give the defendant the required "warnings to motorist"
Defendant didn't refuse to take a breath test, blood test or urine test
Defendant test results were invalid or incorrect
A Statutory Summary Suspension generally begins 46 days after the date of arrest. Until that time, a person's driver's license doesn't become suspended for that reason. For purposes of the SSS only, a "first time offender" means a person who hasn't had a DUI in the last 5 years, which is NOT the same definition of "first time offender" that is used for purposes of DUI sentencing. Once the period of SSS begins, the suspension will last for:
6 months (1st SSS offenders who took all requested chemical testing)
12 months (1st SSS offenders who refused some requested chemical testing)
12 months (2nd SSS offenders who took all requested chemical testing)
36 months (2nd SSS offenders who refused some requested chemical testing)
Sometime before the Statutory Summary Suspension time period is over, the defendant is then required to pay a "reinstatement fee" to the Secretary of State. Such reinstatement fees are common with all suspensions and revocations, although the fee differs depending on what type of suspension or revocation is involved.
The failure to pay the associated reinstatement fee is a very common (and very serious) problem. Although the paperwork that is sent by the SOS to the defendant during their suspension does explain that this reinstatement fee is necessary, it's easy to overlook. Why is it serious? Because driving on a suspended license when the reason is a Statutory Summary Suspension is more serious that when the ticket is because of some other suspension reason. In this case, there are mandatory minimum penalties that apply which may include jail, high fines, and/or re-suspension of license.
No Insurance Suspension
Illinois is a mandatory automobile insurance state. As part of receiving a driver's license in Chicago or anywhere in the state, a driver promises to maintain a certain minimum level of liability insurance. This is called being "financially responsible". The Secretary of State (SOS) doesn't however normally require you to report to them which company you're using or to prove you have insurance. It's simply too hard for the SOS to keep track of insurance for millions of Illinois drivers. Because people can change insurance companies every day if they wish, tracking these changes would be overwhelming. Instead, the state just trusts that we're all insured. That is, until such time that something comes to their attention indicating that you're not.
This typically comes to their attention in one of a couple ways. The first way is when a person is issued a traffic ticket by a police officer for Driving with No Insurance (also known as a (3-707). If that person truly had insurance, the Judge would dismiss the case in court. But if the defendant enters a plea to the charge, that information will be transmitted to the Secretary of State and they will know that this person must have been driving while uninsured. Another way that this comes to the attention of the SOS is when a person is in a car accident without insurance, and the other party (whether it's the other driver or their attorney or their insurer) tells the SOS that you were not insured.
So, what happens next once the SOS learns you were not insured? The answer is that your license becomes suspended. The Secretary of State no longer trusts that you'll stay insured and now you're on their radar. An insurance suspension (also known as a 04, 05, or 06 suspension) can occur for a number of different reasons including a failure to purchase SR22 insurance in a timely manner, having an accident without insurance in place, or receiving a civil judgement in court due to a car accident. Depending on which insurance suspension is in place, our legal team may be able to help our clients get the suspension lifted within a matter of days. Some of the many ways to fix your suspended license may include:
Paying the other party in full for damages and getting a release
Agreeing to a payment plan and filing that plan with the SOS
Filing a bankruptcy
Filing SR22 Insurance (known as SR22) with the SOS
Proving to the SOS during a hearing that you were not at fault
Filing a special affidavit with the SOS to avoid paying the other party
Proving that the civil judgement against you has expired
Regardless of which insurance related suspension you have, the legal team at Mitchell S. Sexner & Associates LLC will help you determine the best and least expensive path to an unsuspended license and can be reached at (312) 644-0444.
Other Types of License Suspensions
There are many other types of suspensions that a driver in Illinois may receive including:
Failure to Appear Suspension – When a driver has been ticketed and fails to appear in court, a Failure to Appear Suspension may be entered against the driving privileges or driver's license of the driver. This type of suspension is initiated by a court clerk (either in Illinois or out-of-state) informing the SOS of the driver's failure to appear. When this happens, it's necessary to appear in court to answer for the ticket and then the final disposition of that case must be transmitted to the SOS.
Automated Traffic Violations and Tollway Suspensions – Just like a parking ticket suspension, an automated traffic violations suspension is triggered when a driver fails to pay a certain number of automated fines such as iPass tolls, red light cameras and speed cameras.
Parking Suspension – When a driver has received 10 or more parking violations that remain unpaid, the municipality or city may notify the SOS of this and a Parking Suspension will occur. Other than the possibility of entering these debts into a Chapter 13 bankruptcy, the driver will need to simply work out a payment plan with the City of Chicago or whatever municipality is involved to lift the suspension.
Child Support Suspension – A driver can have his or her license suspended for a failure to pay child support. In Chicago, the department of child support enforcement is generally willing to work out a payment plan though, and release the suspension, although if the driver doesn't follow through on the plan, they typically will not offer a second chance for such a payment plan.
Failure to Pay Fines Stop – A Failure to Pay Fines is a "stop", rather than a suspension. When the Clerk of the Court in Cook, Lake, DuPage, Kane, Will or any other county notifies the SOS that fines remain outstanding, the SOS will place a "stop" on the license. Different than a suspension, a "stop" will not get you arrested or even ticketed. What it does is to stop the SOS from renewing your expired driver's license or issuing you a new replacement license (if yours is lost or stolen), until you make things right with the court and pay your fines. Once the SOS is notified directly by the court clerk with "a Failure to Pay Fines Receipt", the stop will remain in effect.
In each of these circumstances, the suspension can usually be lifted if the driver either avoids getting arrested again or satisfies the suspension by paying the right party. Generally, at the end of a suspension or revocation, the driver must also pay a "reinstatement fee" to the Illinois Secretary of State (DMV) as well to fully release the license. Unlike an invalid license, a ticket for driving on a suspended license is usually a Class A misdemeanor punishable by up to $2500 in fines and up to one year in jail.
License suspended or revoked? Contact us.
Contact us
What is Driving on a Revoked Driver's License?
Although people sometimes use the terms "Suspension" and "Revocation" interchangeably, the two terms could not be more different. In contrast to suspensions, revocations do not really have any specific termination or ending date, so it's not possible to just "wait out" the suspension period to reinstate the license. Instead, the loss of privileges is what is called "indeterminate", which means that it will end when the Secretary of State is ready for it to end.
People are often confused by what they see on their driving record (driving abstract) when viewing information about a revocation. There is typically a future date that relates to the revocation period and most people assume that this is a date after which the license will be automatically valid. Although this is generally true for suspensions, in the case of revocations it's not, as the date typically just denotes the earliest date that the SOS might release the driver's full license IF AND WHEN they are convinced that the driver is worthy. This may take a short time or a long time, but it generally involves the driver petitioning the Illinois Secretary of State for driving relief, either by taking part in an "informal" hearing or a "formal" hearing at the Secretary of State offices.
At this drivers license reinstatement hearing, the drivers will need to convince the Secretary of State that he or she has met certain criteria in order for the DMV to release the license or to allow a probationary or hardship license. It is highly recommended that a driver uses an experienced attorney for "formal" hearings as they are generally contentious and not a friendly event. The process of reinstating your driver's license can be long and complex. The experienced Chicago traffic attorneys of Mitchell S. Sexner & Associates LLC know the "ins and outs" of this process and are prepared to help you navigate your way through them.
Just like most suspended license tickets and invalid license tickets, revoked tickets are also usually misdemeanors punishable by up to a year in jail and up to $2500 in fines. But depending on the circumstances of the offense and the driver's driving history, there are many situations where the moving violation may be upgraded to a felony which may then carry mandatory minimum jail time or even a long, mandatory prison sentence with no possibility of probation. This is why for most revoked license tickets; the judge will instruct the defendant to hire an attorney to represent him or her.
Driving on a Revoked License Tickets Based on DUI
Although there is more than one reason (called a "basis") why a person's driving privileges may become revoked, the most common (and the most serious) basis for a revocation involves those due to a previous Driving Under the Influence offense.
When a person is charged with a suspended or revoked license offense, the prosecutor and judge are guided by Section 6-303 of our traffic code. Most violations (based on other than a DUI) are Class A misdemeanors which although punishable by up to 365 days in jail, do not mandate (order) the judge to give any particular minimum sentence. If the judge wants to give zero days in jail and a $1 fine, he/she can do it. If a driver has had multiple previous violations, the statute does require a minimum mandatory penalty of either 30 days in jail or 300 hours of community service. But because the law says "OR", the judge still has a free hand to avoid jail and just give community service under such circumstances.
However, when the basis for the revoked license ticket is because of a DUI or certain other specified serious reasons, an entirely different set of rules applies:
Revoked/Suspended License Penalties
If your license is suspended or revoked because of DUI, Statutory Summary Suspension / Revocation or Leaving the Scene of an Injury Accident, then the following mandatory minimum penalties apply:

Defenses for Driving while Suspended, Revoked or Invalid
As a legal matter, there are very few circumstances where a person "must" drive and has no other option. Needing to get to work at the risk of being fired is just not legally a defense to such a ticket. It may be understandable, and it may be a good excuse, but it's usually not a legal defense, because there usually friends with cars, Uber, cabs and public transportation available. Although a lack of knowledge that the driver's license was invalid, revoked or suspended may technically be a defense, proving this lack of knowledge is often an entirely different matter and is seldom successful at trial. Practically the only situation that would likely be acceptable as a defense might be when someone is extremely ill and there is no time to call a cab or an ambulance. This would be a very unusual circumstance.
But this doesn't mean that fighting tickets for driving with an invalid, suspended or revoked license cannot be successful under certain circumstances. Experienced traffic attorneys know where to look for such potential defenses.
Call Chicago Defense Lawyers with Experience
Few other Chicago traffic offenses have such a wide range of penalties associated with them as do suspended and revoked license tickets. Depending upon the type of suspension and the client's past driving record, such tickets may be simple and easy with very small fines and little effect on the client's driving record; or they may be extremely serious with long mandatory terms of imprisonment and extensive damage to the client's driving record. For instance, a suspension that results from a failure to appear on a speeding ticket is not very serious whereas a revocation based upon a DUI when the client has had many such previous tickets carries with it long mandatory jail terms.
The lawyers associated with Mitchell S. Sexner & Associates LLC are all experienced Chicago traffic violation attorneys that know the best ways to help you protect your driving privileges. Mitchell Sexner himself is a former traffic Assistant State's Attorney and all members of the legal team have a proven track record of successes. So, contact us any time at (312) 644-0444 to set up a free no-obligation consultation and to review your driving record.