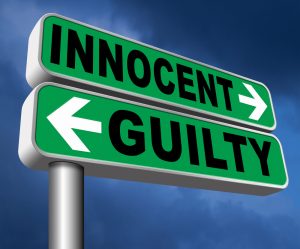 There are only three ways a person can be charged with a crime or offense in Illinois. Illinois law provides that a prosecution may be commenced by complaint, information or indictment. That's it. Well, if you count local ordinance tickets there are four ways. But tickets are just a type of complaint. What is a complaint? A complaint is just a document filed with the court that is used to charge non-felony offenses. It does not have to contain much to be considered a valid complaint. A complaint must be in writing. It must name the offense. It must contain the statutory provision or ordinance alleged to have been violated. It must contain the nature and elements of the offense, the date and county of the offense, and the name of the accused to the extent that this is possible. Sometimes the prosecuting authorities only know a "nickname" or "alias" of the accused. If all the authorities have is a nickname or an alias, then so be it and this will be enough to count as the accused's "name" for the purposes of filing official court documents
What Does it Mean to be Charged by Information?
Illinois law states that all prosecutions of felonies shall be by information or by indictment. An information is like a complaint (basically requires just the filing of some papers) but just with some extra rules attached. When the prosecution proceeds in this way by filing an Information, the accused is entitled to have a preliminary hearing so that a judge can determine whether there is probable cause to believe a felony was committed and the accused committed it. When a preliminary hearing is held, the Defendant has at least a fighting chance to get his case dismissed at this early stage.
What Does it Mean to be Charged by Indictment?
On the other hand, an indictment is issued by a Grand Jury. Both are methods of charging someone with felony. Neither method is better or worse than the other; they're just different paths to the same destination. Both of these procedures are calculated to satisfy the basic constitutional rights of the accused. A more detailed discussion of this is beyond the scope of this blog, but in short, due process requires that at minimum, before a felony can proceed, that the prosecuting authority must convince a 3rd party that there is reason to believe that a felony was committed and that the accused, committed it. This standard is extremely low, which means that it's not that hard for the prosecutor to accomplish.
How Does a Grand Jury Work?
If the prosecution proceeds by indictment, the prosecutor brings his evidence before a grand jury. This is a group of people from the community that have been summoned for this purpose; like being called for jury duty. During a Grand Jury proceeding, the prosecutor must put on evidence and the prosecution's evidence is generally the testimony of a detective or police officer. There is no cross examination of the detective or officer and leading questions are permitted during this event. Most importantly, neither the accused nor his/her lawyer are invited to attend. So, the jurors hear only what the prosecution wants them to hear and nothing at all from the Defendant's point of view. Most people are very surprised to hear that this "secret" proceeding can take place without the defendant even being invited, but it is in fact completely constitutional.
Although grand jury members are permitted to ask questions (which they rarely do), once they have heard the testimony from the police, they then make a decision. if they believe that there is probable cause to believe that a felony was committed and that the named person was the one that committed it, then the grand jury will issue what is called a "True Bill." This means that they agree that the person should be prosecuted for the crime. Once a "True Bill" is announced, the Prosecution can then present their indictment in open court and the judge will issue a warrant for the arrest of the accused.
The law provides the following:
Upon the filing of an information or indictment in open court, the court shall immediately issue a warrant for the arrest of each person charged with an offense directed to a peace officer or some other person specifically named commanding him to arrest such person.
Do You Have to Be Charged Before Being Arrested?
But keep in mind that police do not have to wait for these processes to arrest someone who they have probable cause to believe committed a felony. Look to future blogs for the rules associated with public arrests, search warrants and arrest warrants. What is important to know for purposes of this blog is that the law requires an independent review of the basic facts either by the grand jury or a judge for a felony to proceed forward. The standard of proof is extremely low for the prosecution. Grand juries almost always return "True Bills" and judges almost always find "probable cause" in favor of the State in most preliminary hearings. In the end, both a Grand Jury proceeding and a Preliminary Hearing are really both just processes to determine "did something bad happen and did we get the right guy?" and not to prove someone's guilt "beyond a reasonable doubt – that's the purpose of a trial.
Contact a Top Legal Team When Charged with a Crime
Whenever a person is charged with a crime, it's serious. Whether it's a felony, misdemeanor, DUI or other traffic offense, every charge has the potential to adversely affect that person's life in some way. So, if you've been charged with anything at all, reach out to an experienced attorney right away. At Mitchell S. Sexner & Associates LLC, our phone lines are open 24/7 at (312) 644-0444 and you can also reach us for a free initial consultation by contacting us online. Call today.