Preliminary Hearing vs. Indictment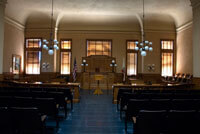 If you have been charged with a felony crime in Illinois, there are some preliminary steps that must occur before your case can be brought to a trial. It can be a confusing and stressful time, but each stage is required under Illinois State criminal law. No matter whether the felony is a non-probationable Class X or a lower Class 4 felony that might involve no jail time at all, you will always begin the court process (after your bond hearing) with a preliminary hearing or possibly an indictment. These two procedures have several important differences that are worth noting.
What is a Preliminary Hearing?
While not applicable to traffic or misdemeanor cases, for felony cases in Chicago and across Illinois, you will need to go before a judge as he or she hears evidence to determine whether the case as charged should be allowed to proceed further. This is called a preliminary hearing. In order for the Judge to determine whether there is enough evidence for the case to proceed, prosecutors will call up witnesses to give testimony in court. Your defense attorney will be allowed to question and cross-examine those witnesses, although typically, the prosecutor will call only one person to the stand; that being a police officer.
What differentiates this stage from a trial is that the prosecution does not need to prove that you committed the crime beyond a reasonable doubt. They only need to convince the judge that there is probable cause to believe that a crime was committed according to the charges. If the judge decides there is not sufficient evidence of this, the case may be dismissed at that point. Even in circumstances where charges are thrown out, the prosecutor may elect to re-file charges at a later time. You and your defense attorney can discuss the likelihood of that happening as well as whether or not to waive your right to a preliminary hearing.
What is an Indictment?
A Grand Jury is an alternative to a preliminary hearing and the choice rests solely with the prosecutor or States Attorney. In some counties, rather than going before a judge for a preliminary hearing (such as is common in Cook County and Chicago), when you are charged with a crime, the prosecutor typically elects to send your case in front of a grand jury instead (as is more common in the counties of DuPage, Lake, Kane, Will and McHenry).
A grand jury consists of a group of people from the community who will hear evidence presented by the prosecution. You are typically NOT invited to this proceeding, nor is your attorney, so your criminal defense attorney will not be able to cross-examine any witnesses, unlike a preliminary hearing. Following the prosecution's presentation, the grand jury will decide whether there is probable cause to believe that the defendant committed a crime, rather than a Judge deciding. If they believe that probable cause has been shown, then an indictment is issued. This means that the case is then assigned to another courtroom where the legal proceedings continue, just as happens after a finding of probable cause following a preliminary hearing.
Contact Mitchell S. Sexner & Associates LLC for Help
If you are charged with a felony, a criminal defense attorney can help you navigate this difficult time. Whether your case involves a preliminary hearing or Grand Jury, the key to success is an experienced criminal defense attorney standing next to you. The criminal defense attorneys at Mitchell S. Sexner & Associates LLC understand that you may be nervous or have questions, so we are here to assist you as best we can. We can be reached 24 hours a day, 7 days a week, with convenient office locations not only in Arlington Heights and Chicago, but elsewhere in Illinois as well. Contact us at (800) 996-4824 for a free initial consultation.