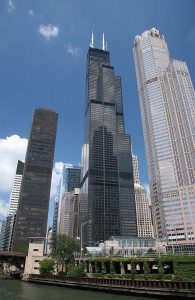 Chicago has been in the news quite a bit lately. Most – if not all – of what's being reported is far from complimentary. A deadly uptick in violent crime throughout the city has prompted many officials and media personalities to dub Chicago the "Most Violent City in America."
Of course, while the title is far from the truth, there's a great deal of relevance. Deaths related to gun and gang violence have exploded across the Chicago area, with many innocent people caught in the crosshairs. But, as it turns out, the rest of Illinois isn't fairing much better.
Chicago actually ranks statistically lower than most Illinois cities when it comes to overall violent crime. Statistics compiled and analyzed from a 2014 FBI database show that towns such as East St. Louis, Harvey, and Rockford are considerably more dangerous given their overall population.
East St. Louis and Harvey rank first and second in violent crime, nearly tripling the amount of violent incidents compared with Rockford or Chicago. With a population of only 25,000, East St. Louis had a shocking 27 murders in 2014. Harvey had roughly 1,235 incidents of violent crime per 100,000 persons.  
Statistics suggests there is much more to the rash of violence sweeping our state than what is found in Chicago alone. For more information about your legal rights in regards to violent crime, give the attorneys at Mitchell S. Sexner & Associates LLC a call to schedule an appointment today.
You can reach us at (800) 996-4824.