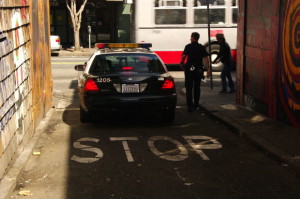 Your mother probably told you not to drive in winter with the windows down or you might catch a cold. Of course, that was good advice. But, she probably never told you that if you drive with the windows down you might also catch an arrest.
A 20 year old Elmwood Park man was arrested recently in large part because he had his windows down. According to police sources, a police officer from west suburban Riverside was in her car when the defendant drove past her. The officer related that she could smell the odor of cannabis from his open window as he passed by.
The police officer initiated a traffic stop and could smell not only the odor of cannabis but the odor of alcohol as well from the defendant's breath. He was asked to exit the vehicle and perform field sobriety tests, which according to the police, he failed. When his two passengers were asked to exit the car, the police also discovered a marijuana grinder, marijuana, and open alcohol. The men later admitted to smoking before they entered the vehicle.
It has become quite common in the Chicago area for police to initiate searches of automobiles based solely upon the odor of cannabis. A person may be pulled over for nothing more than speeding or approached after a minor accident. If the officer is familiar with the odor of cannabis, the driver may be subject to an immediate search of the vehicle based upon nothing more than a smell. Our legal team may attempt to overturn such a search and suppress the evidence depending upon the circumstances.
If you have been arrested and believe that you were searched illegally, contact a Chicago marijuana possession attorney. Mitchell S. Sexner & Associates LLC can be reached 24 hours a day at (312) 644-0444.
Source: http://www.nbcchicago.com/news/local/Police-Smell-Marijuana-From-Passing-Car-Driver-Charged-with-DUI-357239501