Armed Robbery Defendants May Have Opportunity to Visit the Prison Library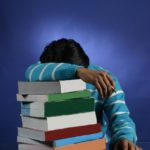 Recently, three young men were arrested after they allegedly tried to rob a homeless man of his book bag in Chicago's South Loop area. A police officer on patrol saw a fight between these four men. When he broke it up, he saw the homeless man had been stabbed multiple times, and that the other three were robbing him. Now, the three young men are charged with Aggravated Battery, Armed Robbery, and one of them is also charged with resisting arrest.
Resisting arrest is the least of each young man's worries, because the felony charge of Aggravated Battery carries a potential prison term of between 2-5 years, and the Armed Robbery carries a mandatory prison term of between 6 to 30 years. These prison terms may be ordered to run concurrently together, or consecutively one after the other. That will give these three plenty of time for reading, perhaps enough time to read every book in the Department of Corrections library. A good book to start with might be Crime and Punishment, by Dostoyevsky.
Of course, the State may also choose to file additional charges, such as Armed Violence, which is a Class X felony, based upon the commission of a Battery upon a public way (a method of charging Aggravated Battery), while armed with a deadly weapon (knives). If that offense is charged, and the men are convicted, they may serve the 6-30 years for that offense consecutively with the 6-30 they may receive for the Armed Robbery. In that case, they may have time to read each book twice.
If you are charged with a criminal offense, you need the services of knowledgeable, aggressive lawyers that will carry the fight for you. You need the Chicago criminal defense lawyers at Mitchell S. Sexner & Associates LLC. Call us today at (312) 644-0444 to schedule an appointment to meet with a lawyer for a free initial consultation at our Chicago office or another office location near you.
The link to the story is here.