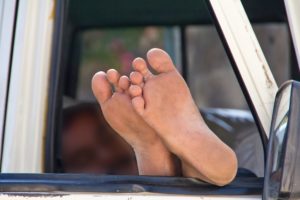 A 23 year old man was recently arrested in Lincolnshire, Illinois, a suburb of Chicago, and according to news reports was charged with two counts of Aggravated DUI, a misdemeanor count of possession of drug paraphernalia, and a misdemeanor charge of Driving with a Revoked License. The offense of Aggravated DUI is a felony, and depending upon one's record, the penalties can range from a Class 4 Felony, all the way up to Class X Felony, for which probation is not even an option.
It all happened when police received a call about a possible intoxicated motorist. Police, responding to the scene, discovered the young man passed out behind the driver's wheel, and another person likewise passed out in the passenger seat of the vehicle. The drug paraphernalia was apparently in plain view of the officers, who knocked several times on the windows to awaken the vehicle occupants. Although they were unsuccessful in rousing the occupants, they were able to open the unlocked doors and finally awaken them.
You may be wondering how the man can be charged with "Driving" under the influence, when as in this case, he was not driving at all, but was asleep. That is because, in Illinois, one can be found guilty of a DUI when he or she is operating a motor vehicle anywhere in the State, or, when he or she is in actual physical control of a motor vehicle while under the influence. As to the felony DUI charges, it also does not matter that the vehicle was situated on private property, as a DUI can happen anywhere, even on your own driveway or front lawn. A location on private property may however make a difference regarding the driving while license revoked charge, as one has to actually be on a publicly maintained roadway/highway, either driving or in actual physical control, in order to be guilty of a Driving while License Revoked (DWLR) or Driving While License Suspended (DWLS).
It is also not much of a defense for this young man to claim that he was "sleeping it off" out of necessity. For years, the law of the Land of Lincoln has been that one may not "sleep it off" without violating the DUI statutes, if one can still be deemed to be "in actual physical control." Typically, one may be found to be in that state when they are situated in the vehicle, with the ignition key present, under circumstances which show that one may simply put the key in the ignition, start up the car, and go. In the case Naperville v. Watson, our Supreme Court ruled that one may not claim they did so out of necessity, where the person acted in a manner that created the circumstances "requiring" one to violate the law. In the Watson case, a young man tried to sleep in his car, with the engine running for heat on a cold night, after he was made to leave his girlfriend's apartment (by her parents)after a party. With no money to call a taxi, and no one else able to drive him, he took his chances sleeping in his car, which was parked in the apartment complex's lot. The Court reasoned that, but for his driving to a party where he knew he would be drinking alcohol, and without making satisfactory plans to deal with the aftermath, the situation would not have happened in the first place.
So, if you are going to drink, or like this young man, apparently do drugs, you really should consider not doing so when you are going to end up behind the wheel. Despite this sound advice, if you do find yourself arrested for a DUI offense, then you will definitely need the help of skillful, knowledgeable, and dedicated lawyers to fight for you in court. You need the lawyers at Mitchell S. Sexner & Associates LLC. Call us today at (312) 644-0444 and let us help you. With offices in Arlington Heights and Chicago, as well as other locations to meet with you, we are always ready to assist you in your time of need.
Read the story here.