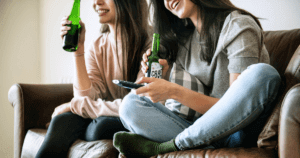 Research conducted in 2018 from the Illinois Youth Survey revealed that 40 percent of 10th graders across the state and in Cook County admitted consuming alcohol at least once in the previous year. Fifty-seven percent of Cook County's 12th-grade seniors also admitted to consuming alcohol at various points throughout the school year.
If you or someone you know has been arrested for underage drinking in Cook County, here is what you need to know about the consequences and procedures following the arrest.
Illinois Underage Drinking and Penalties
Violations for underage drinking in Illinois don't just relate to consuming alcohol. Alcohol-related violations may include the possession of alcohol, transportation of alcoholic beverages and/or making a purchase while underage.
Some of these violations, as a first offense, may result in up to six months of driver's license suspension. Offenders may also see fines of up to as much as $2500 dollars, depending upon the details and severity of the case. If this isn't a first-time offense, violations may carry heavier penalties which might include revoking someone's driver's license as well as many other possible repercussions.
Penalties like restitution, community service, home detention, alcohol/drug treatment, and other sentencing requirements may produce even further complications for those who are underage.
Breaking down the Penalties
Restitution: If your underage drinking violation results in damages or even death, you may be ordered to provide restitution for the offense. This may be a long-term financial obligation backed by the power of the court to enforce this order.
Community Service: A judge may order you to complete community service as a result of your underage drinking violation. If SWAP is ordered, the Cook County Sheriff's Department will facilitate and monitor this option.  Otherwise, "self-directed community service" may be ordered which will normally allow a defendant to perform service at any true charity of his/her choosing.
Home Detention: Your violation may sometimes result in being detained at home through electronic monitoring systems. These wearable monitoring systems track your movements 24 hours a day. Some concessions may be made for reasons such as school or work attendance, grocery store visits or doctor's appointments.
Supervision vs. Probation: The court may decide whether your offense warrants supervision or probation.  Whereas supervision is not a conviction, probation is a conviction. In either case, the defendant will be required to complete a series of court requirements during the sentencing period. Probation orders may require you to consult regularly with a probation officer.
Zero Tolerance in the State of Illinois
Minors may underestimate the seriousness of laws regarding underage drinking in the state of Illinois. The zero-tolerance policy states that even a trace amount of alcohol in the system may result in a loss of driving privileges or charges of underage drinking or DUI.
If you or someone you know is being faced with an underage drinking violation, we urge you to give Mitchell S. Sexner & Associates LLC a call to discuss your case. We have been handling cases like these for over 25 years and would be happy to speak with you to discuss the best course of action. We can be reached at (312) 644-0444.