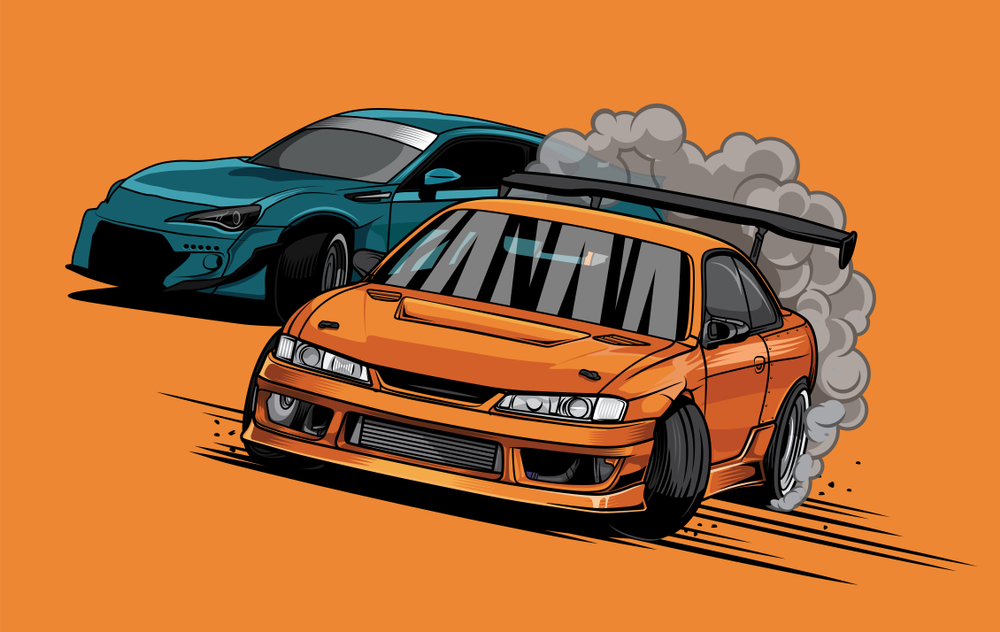 Street racing events are becoming more popular in the City of Chicago and across Illinois. Recently neighborhoods like Pilsen, the West Loop, and the South Side have become inundated with late night 'street takeovers' wherein souped-up vehicles will engage in dangerous traffic stunts like donuts and "drifting" at busy intersections. The scenes attract hundreds of spectators and widespread social media attention as cars come from all over the city and neighboring states to participate. The goal is usually to narrowly avoid hitting spectators while creating exciting content to post online.
Street Racing in Illinois has been around for a long time in many different forms. From late-night drag races on Lower Wacker Drive to 200mph show-downs on DuSable Lake Shore Drive expressway, the deadly and high-stakes sport shows no signs of stopping anytime soon.
What is the definition of Street Racing?
Street Racing, formerly known as Drag Racing, has six possible definitions in Illinois (625 ILCS 5/11-506).  These different forms of street racing can be generally characterized as:
Two or more cars or vehicles operating from a position that is side by side and accelerating in speed in an attempt to competitively outdistance one another; or
One or more cars or vehicles driving over a selected common course, with each beginning at the same location or point, and for the specific purpose of comparing their power of acceleration or relative speeds for their vehicle(s) within a certain time limit or distance; or
When one or more cars or vehicles compete in an effort to outdistance the other; or
When one or more cars or vehicles tries to prevent the other from passing them; or
When one or more cars or vehicles tries to arrive at a specific destination ahead of the other car(s) or vehicle(s); or
When one or more cars or vehicles competes to test the endurance or physical stamina of the driver(s) when driving a route over a long distance.
Additionally, an individual can be charged with Street Racing for allowing someone else to use their car to Street Race.
What is the penalty for Street Racing?
Street Racing is a serious crime in Illinois. Street Racing is a Class A misdemeanor which carries a maximum penalty of up to one year in county jail and a maximum fine of up to $2,500. The minimum fine for a first offense is $250. For a second or subsequent offense the charge becomes a Class 4 felony with a minimum fine of $500. A conviction for street racing will also get your driver's license revoked by the Illinois Secretary of State for an indefinite period of time. The driver then must prove to the Illinois Secretary of State hearing officer that they are no longer a danger to public safety in order to get their license back.
Not only can you be charged for Street Racing and lose your driving privileges, there are new Chicago ordinances that will also allow your car to be seized and sold at auction. 
Factors That Can Escalate a Charge to Aggravated Street Racing
Street racing can be elevated from a simple misdemeanor to a Class 4 felony for aggravated Street Racing if the motor vehicle crashes and it results in permanent disability or disfigurement or great bodily harm to another.
Aggravated street racing is a Class 4 felony punishable by a sentence of not less than one year in prison.
What About Helping Others Street Race?
If the owner of a vehicle allows someone else to use their vehicle for Street Racing purposes, it is a Class B misdemeanor punishable by a maximum penalty of 180 days in country jail and a maximum fine of $1,500.
A second charge of allowing someone to use your car for Street Racing will be upgraded to a Class A misdemeanor.
House Bill 5439, which will take effect on January 1st, 2023, will penalize people who slow down and stop traffic to help a Street Racing show take place. Anyone who slows down to block traffic for a Street Race will be punished as harshly as the actual racers themselves. The first violation of this new law will be a Class A misdemeanor and a subsequent violation will be a Class 4 felony.
Additional Penalties for Street Racing Related Activity
Many criminal charges may result as a consequence of being part of a Street Racing event. At some Street Racing events, fireworks are set off, gunshots are fired, and police officers and their squad cars are openly pelted with rocks. In the last month, onlookers and participants in Illinois have been charged with:
Felony aggravated assault of a police officer for driving directly at a Chicago Police Sergeant;
Having their car impounded requiring a $10,000 fine to get it back;
Misdemeanor reckless conduct;
A class B misdemeanor for allowing their vehicle to be used by someone else for Street Racing;
Citations for obstructing the rear license plate;
The Future of Street Racing in Chicago
The recent unsanctioned racing events are being met with increasing hostility by the residents of Chicago and local aldermen who are calling for more severe penalties for violators and onlookers. On July 20th, 2022, the City Council passed an ordinance meant to curb Street Racing which will fine the owner of the vehicle anywhere between $5,000 to $10,000 in addition to impounding their vehicle.
Chicago Police have made it known they intend to be "relentless" in curbing these stunts. They will be analyzing videos closely to identify cars to impound and to identify people in order to charge them with crimes. This week alone, CPD tweeted that they have identified 51 cars to impound under the ordinance allowing for fines up to $10,000. Additional ordinances are currently being considered to fine spectators as well.
You need an experienced lawyer to help you avoid a conviction on a Street Racing charge and prevent the loss of your driving privileges and freedom. If you were charged with a Street Racing offense, do not hesitate to contact Mitchell S. Sexner & Associates LLC. For more than 30 years, we have represented clients in Chicago and across Illinois for a wide range of auto-related cases. We have the experienced attorneys and resources to create the appropriate defense to fight the charges you face. Call us at (312) 644-0444 right now or reach out to us online for a free consultation.