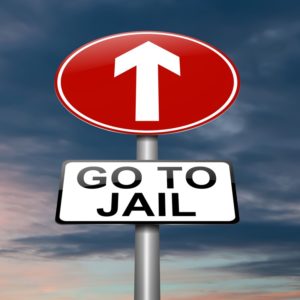 Recently, a local man, previously convicted of Driving Under the Influence of Alcohol or Drugs on two occasions, was arrested for a third such offense after he allegedly drove the wrong way down a one way street directly in front of a marked police cruiser. Apparently, he had been coming from a family Thanksgiving dinner, where he perhaps may have had a little too much to drink, when he committed the remarkable traffic move right in the presence of police officers.
After he was curbed, he told the police that he had no license. Records showed his prior DUI offenses, his revoked driving privileges, and a search of his vehicle after his arrest revealed an open half-empty bottle of alcohol. A check of his criminal record also disclosed prior arrests for burglary, obstructing justice, invasion of privacy, and damage to property. For now, he faces multiple felony counts including transportation of open alcohol, wrong way on a one way street, aggravated DUI and aggravated DWLR (driving while license revoked for DUI) which has the potential to send him to prison for anywhere from 3-7 years, as well as the civil forfeiture of his automobile to the State.
According to the police, the man spoke in his own defense, stating "Maybe I'm a little tipsy, but not that drunk." Unfortunately, as the attorney for this defendant will likely later inform him, this was not a defense, but it will likely be viewed as an admission to being under the influence. Any level of impairment, even slight, may be the basis for a finding of guilty in court, because the burden on the State is to prove beyond a reasonable doubt that, due to alcohol consumption, one's ability to exercise due care and caution when operating a motor vehicle with safety has been compromised. Therefore in retrospect, he should have followed every lawyer's advice, and remained silent. As they say: "it is better to keep silent and let them wonder if you are a fool, versus speaking and removing any and all doubt."
If you are being stopped by police for a traffic violation, and are being accused of DUI, you not only need to know your rights, you need to know a lawyer well versed in defending such cases. You need the lawyers at Mitchell S. Sexner & Associates LLC. Call us today at (312) 644-0444 to schedule a no-cost initial consultation, in the confidential surroundings of either our Chicago office, Arlington Heights office, or another location near to you.
The link to the story here.