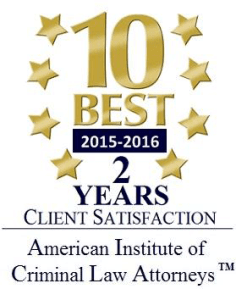 Sexner & Associates, LLC will have to make room for another plaque on their already crowded wall. That's because founding attorney Mitchell S. Sexner has received the coveted American Institute of Criminal Law Attorneys' (AIOCLA) Two Years 10 Best Criminal Law Attorneys for Client Satisfaction Award. The AIOCLA is an attorney rating organization that publishes an annual list of the Top 10 Criminal Law attorneys for each state in the U.S. This accolade is yet another affirmation that Mitchell S. Sexner is one of the top criminal law attorneys in the state of Illinois.
As a former Assistant State's Attorney in Illinois, Mr. Sexner is familiar with both the prosecution and defense arenas of law and understands the importance of a strong and knowledgeable defense team in misdemeanor and felony cases. Mr. Sexner founded the firm now known as Sexner & Associates LLC in 1990 out of his fierce advocacy for the freedom of the wrongly accused. Over the last 25 years, the firm has successfully represented many clients charged with everything from simple traffic tickets to serious violent felonies.
Mr. Sexner and his legal team knows how frightening it can be for innocent people to get arrested and face the possible loss of their freedom. They realize that anyone can make a mistake, but also believe that everyone deserves a second chance and the opportunity to learn from that mistake.
If you or a family member has been accused of a crime, you'll want Sexner & Associates, LLC on your side. Call (800) 996-4824 for a free case evaluation. Their law firm practices in Chicago and throughout Cook, Lake, DuPage, Kane, Will, Kendall, DeKalb, McHenry counties.