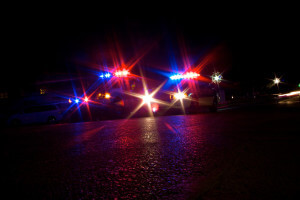 There's bad luck – and then there's really bad luck. The majority of drunk driving arrests in Chicago and surrounding cities involve a driver who gets pulled over due to erratic or unsafe driving like improper lane usage.  Many times, the police are dispatched to the scene as a result of a car crash. A recent arrest in the city of Volo involved a driver who unfortunately crashed into the back of a parked Lake County Sheriff's squad car.
The squad was on the side of the road investing another incident. As a result of the accident, the driver and Sheriff's Police officer were injured. Both were transported to Good Shepherd Hospital in Barrington for treatment of their injuries. According to police, the squad had its emergency lights activated at the time of the crash. The driver was arrested and charged with having no insurance, failure to reduce speed to avoid an accident, failure to yield to an emergency vehicle, unlawful possession of drug paraphernalia, and driving under the influence of drugs.
Most people are familiar only with the standard DUI charge involving driving under the influence of alcohol.  But, in Illinois, our laws encompass a wide range of other DUI charges, including driving under the influence of drugs, driving under a combination of drugs and alcohol, and driving under the influence of cannabis. Of great surprise to many people, even if you have a prescription for medication, you may be charged with driving under the influence of drugs if your medication use impaired your ability to drive properly.
Mitchell Sexner is a former traffic and DUI prosecutor. All attorneys at Mitchell S. Sexner & Associates LLC are knowledgeable about different types of DUI cases and are ready to help you. Call us 24 hours a day at (312) 644-0444 for free information.
Source: http://www.nbcchicago.com/news/local/Man-Charged-with-DUI-After-Crash-Involving-Lake-County-Deputy-364786431