How Does Electronic Monitoring in Chicago Work?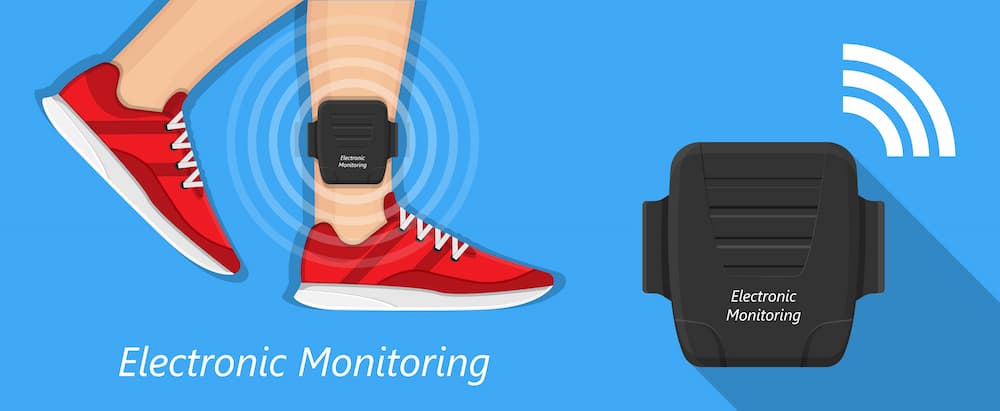 Currently, there are over 2,000 people on the Cook County Electronic Home Monitoring program (EM) run by the Cook County Sheriff's Office (CCSO). The program is meant to ease overcrowding in the jails and allow an accused person in Chicago or elsewhere in Cook County to serve at least part of their sentence at home rather than in Cook County Jail. Most people on Electronic Monitoring in Cook County are serving sentences for low-level or non-violent offenses.
Participants are subjected to 24 hour a day home detention while wearing an ankle bracelet which emits a radio frequency that tracks their location by GPS at all times. If any deviation from the immediate radius around their home occurs, they will receive a call from the Sheriff's office informing them they are in danger of "violating" their electronic monitoring. If they do not immediately return home or are found to have left the area of their home without permission, they will receive a "violation" of bail bond which will then require a hearing in front of a judge and then possibly be taken into custody (unless they can think of a really good explanation to give the judge about why they had to leave the area). Seeing your friends down the street or going to get a McRib sandwich before McDonald's runs out will not work as proper excuses. So, unless it's a life-threatening medical condition or other really good excuse, you might find yourself back inside the Cook County Jail, which is often a lot less pleasant than being at your home or work all day.
Can You Request Movement While on Electronic Monitoring?
Yes, movement can be requested when you are on Electronic Home Monitoring – provided you give the Sherriff's Office a minimum of 72 hours to respond to your request (and oftentimes to be safe you should request far in advance of 72 hours).
There are many reasons why someone would need movement on Electronic Monitoring, including:
Attending in-person court dates
Changing where you're living while on your Electronic Monitoring
Seeing a doctor or going to the hospital
Needing to travel for your job
Picking up a child or dependent at a certain time who has no other means of transportation
Being part of the program is considered the same as being incarcerated in Cook County Jail. Participants almost always receive daily credit for being on Electronic Monitoring just as they would receive credit on their sentence if they were actually in jail. As a result of this, the judge is unlikely to grant movement for reasons that are not absolutely necessary.
How to Request Work Movement While on Electronic Monitoring
Requesting work movement from the judge can be a complicated process that will take much longer if it is not done correctly. Individuals on Electronic Monitoring will need to provide the court with a letter from their employer (on a proper letterhead with the company logo and handwritten signature) which details:
The exact location of their new employment (there should only be a single stationary location in most instances). Participants may try to get around this by demonstrating that they are Uber Drivers or security guards, for instance, and that they work at multiple locations. Often, a judge may not be willing to go along with this as it would require a much higher level of oversight by the Sherriff's office.
The exact hours of their employment (it must be the same hours every week). Typically, participants will try to get "7 to 7" meaning leaving the house at 7AM and returning home by 7PM. This would allow for two full hours of travel time to get to and from work. The judge can and will allow for travel time. However, the judge will not allow two hours of travel time if your work-site is directly down the street from your house. It is important to note that the Sheriff can and will monitor whether you are travelling a "straight route" to and from your house. Stopping off for that McDonald's McRib ten blocks in the other direction or making a detour could result in an "Escape from EHM" felony charge. Being absent longer than 48 hours will definitely result in an escape from Electronic Home Monitoring charge.
Your letter must list whether you are being paid in cash or via check. This is important because if you are being paid via check the Sherriff could request paystubs every two weeks or every month to ensure that you are still indeed working at your job.
The responsibilities you will have at your new job. This is to show the Sherriff and judge that you are working a legitimate job with actual responsibilities. The judge may be suspicious of a job when you are working for a family member or seem to have unusual work responsibilities based on your stated education or experience.
Your lawyer will then submit the documents to a judge and request a signed order to be sent to the Sheriff's office. The sheriff will then call the employer's phone number listed on the letter to verify that the employment is indeed real. After this, your movement should be approved.
Once requested, it is important to call the Sheriff's office to confirm that you are indeed approved for movement. They have an automated number which can be called to give you updates on your daily movement if you provide your personal OID number (your unique Electronic Monitoring number assigned to you beginning with the number "2").
Requesting Other Types of Movement While on Electronic Monitoring
Court Movement
Movement to attend court can be requested by calling the Sherriff's office 72 hours in advance of your court date.
Relocation of Residence
Participants on Electronic Monitoring are allowed to request a change of residences after 30 days of being on the program. There could be many reasons for an individual wanting to shift their host site (residence) for Electronic Monitoring purposes. Maybe the host kicked them out or they got in a fight with their significant other and now have to relocate. The new address must be in Cook County though. Participants in Electronic Monitoring are only allowed to request a residence change once. If they get kicked out from their second residence, they are not allowed to live in their car and they will be going back to Cook County Jail instead.
School Movement
Movement to attend school may also be requested by calling the Sherriff's office 72 hours in advance. In addition, a weekly class schedule may be required every month by the Sherriff's office.
Emergency Medical Movement
An individual on Electronic Monitoring is free to call 911 and be taken to the hospital for a legitimate medical emergency. At the earliest possible opportunity though, they should call the Sherriff's office to explain what happened. If a violation of bail bond hearing later occurs, they should keep in mind that they will have to provide proof of those relevant medical records.
Defending Electronic Monitoring Movement Bail Bond Violations

There are many ways an experienced lawyer can help you defend against an accusation that an individual's movement restrictions were violated. These include:
Proving that the Electronic Monitoring ankle bracelet was broken or defective
Showing there was a problem with the Electronic Monitoring "box" which provides the GPS radius area for the bracelet
Showing timestamped video footage of an Electronic Monitoring participant at their home during the time of the alleged violation
Showing independent cell phone GPS data which shows an Electronic Monitoring participant was at home during the time of the alleged violation
Having other individuals write statements to the Court explaining that you were at home
Providing evidence of a legitimate emergency which forced you to move outside of the GPS range briefly
In Cook County, being on Electronic Monitoring at your home rather than sitting in the Cook County Jail is seen as a privilege, not a right. Obtaining movement hours and fighting against allegations of movement violations is serious business though, and a violation of the rules could put you back in jail, sometimes for many months. Judges may sometimes give you one chance to slip up, but they almost definitely will not give you two. Whenever that happens, your freedom and the bond money you posted (if any) could be forfeited.
Contact Mitchell S. Sexner & Associates LLC if You Need Legal Assistance
If you have been accused of violating Electronic Monitoring in Chicago or anywhere else in Cook County, or if you want to request movement on your electronic monitoring for work or school, you should contact the Chicago criminal defense lawyer who is already handling your criminal case.  If you haven't yet hired an attorney on your main case, you can contact the Chicago criminal defense lawyers of Mitchell S. Sexner & Associates LLC to discuss possible representation. Our attorneys have more than 30 years of criminal defense experience and have successfully represented more than 25,000 clients since 1990. Our attorneys can make sure you are treated fairly by the justice system and if your case later goes to trial, we will be ready with a vigorous defense strategy which can be tailored to your case. For more information about our legal services, visit our contact page or call (312) 644-0444 for a free and confidential consultation.