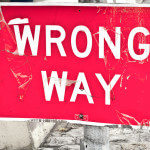 On an empty stomach anything can happen, and tempers can flare. But road rage in an Oak Lawn suburban Chicago fast food drive-thru lane?  Yes.  Sometimes, it's not just the French fries that get (as)saulted.
Recently, when a car tried to enter the drive-thru lane through the wrong entrance of Fatso's restaurant, he was called out by another patron.  After the car backed out and came in properly, an argument ensued. It then appeared as if the incident was over, but it wasn't.  Although one of the men had left, he had been stewing across the street while pumping gas.
So, after the car that pulled in the wrong way had finished ordering and the passengers were waiting for their food, the other man from the argument spotted them from across the street and continued to watch them.  As they were leaving with their food, he came back to the restaurant and punched the face of the car's passenger, and broke the mirror on the passenger's side of the car.  One of the victims then pulled out a knife to defend himself, at which point the attacker yelled that he had been stabbed.  After the police arrived on the scene, it was clear that he hadn't been stabbed and the attacker was arrested, according to police.
People often confuse the terms battery and assault in Chicago. When someone touches another person, whether they cause harm or whether they merely touch the other person in an offensive manner, it's considered battery.  On the other hand, when someone threatens another with words or by displaying a weapon such as a knife, it may be considered an assault.
If you are accused of a crime, you need an attorney who is experienced and will aggressively fight for your rights. The attorneys at Mitchell S. Sexner & Associates LLC have been defending people since 1990. Contact us at (312) 644-0444 to see how we can help you.