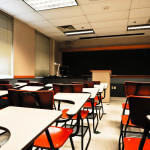 In Illinois, a battery involves a touching of another person, although not every touching constitutes a battery. For instance, shaking another person's hand is not a battery. The touching must either be proven to be harmful or offensive. Obvious examples of a harmful touching include causing pain to another, breaking the bone of another, hitting another with a brick, punching another in the face, or shooting another.
Examples of an offensive touching vary greatly depending on the person touched. Such a touching could include poking another with a finger to make a point or grabbing an item from the other person's hand. If a judge believes that a touching occurred and believes that the victim was truly offended by the conduct, then the defendant may be found guilty of a battery.
Recently a Spanish teacher in Deerfield, a Chicago suburb in Lake County, was charged with misdemeanor battery involving contact with a student. According to the Lake County Police Chief, the Lake County State's Attorney's Office approved an arrest warrant for the teacher on this charge after the student complained that the teacher had placed her hands around his neck.  The Spanish teacher stated that the student had been disrupting the class by blurting out comments and she had merely placed her hands on his neck in a light-hearted manner and told him that "(H)e was driving me crazy."
The attorneys at Mitchell S. Sexner & Associates LLC have represented clients on battery charges, both misdemeanor and felony, for over 25 years. We know that what is a battery to one person may not be a battery to another and that sometimes perception is everything. We will always do our best to convince the judge and prosecutor that our clients are deserving of a second chance and, if possible, that their conduct was not criminal. Contact us to discuss your case at (800) 996-4824 any time of day.
Source: http://www.chicagotribune.com/suburbs/deerfield/news/ct-dfr-teacher-battery-charge-tl-0114-20160108-story