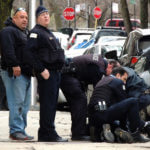 A body camera video recently released from the Chicago Police Department shows the aftermath of a shooting that left the suspect dead, and according to some viewers, serious procedural errors were committed by the police officers.
The suspect was driving in a car that had been reported stolen when police tried to stop him. The suspect hit two police cars and officers started firing at him while he was fleeing in the stolen car. Once the car crashed, the driver, an 18 year old male, ran and the police gave chase. During the chase, shots were heard and then the video shows a person face down on the ground handcuffed and covered in blood. One officer is holding the person's leg down and another is holding the victims head. What can be heard on the video is audio of the officers cursing the suspect. The actual shooting was not caught on the officer's body camera, just the audio of the chase and then the video displays what happened after the shots were fired. But according to accounts, the suspect was not armed, and died of the gunshot wound.
Audio taken from video footage indicates that the officer thought the suspect shot at him while driving off in a stolen car, but those shots were actually fired by another officer who was targeting the stolen car.
The Chicago Police Department has admitted that there were procedural errors and that the officer who fired the shots violated departmental policy. Different than previous recent cases where it took CPD an extended period of time for a response, the Chicago Police Superintendent acted swiftly in this matter relieving three of the officers who shot at the victim of their duties for violating policy.
If you have been the victim of police violence or if your civil rights have been violated, you need an aggressive, experienced attorney fighting for your rights. With over 25 years of experience, the team of attorneys at Mitchell S. Sexner & Associates LLC. can help you. Call us at (800) 996-4824. Call today.
https://www.chicagotribune.com/c08a7c70-2474-4c8b-891f-590519f51269-132.html
http://www.cnn.com/2016/08/05/us/chicago-police-shooting-video-release/