Seizure & Forfeiture Lawyers in Chicago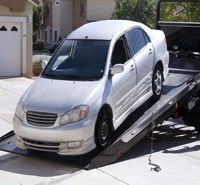 There are many laws in Illinois that make it very profitable for counties like Cook and cities like Chicago to seize and forfeit property used in the commission of a crime. Of course, lawmakers are careful to emphasize that seizure and forfeiture laws are intended to deter future criminal conduct and not meant to line the pockets of the government. But once a piece of property is forfeited, the government is free to destroy it, keep it, or sell it and then retain the proceeds from the sale.
When Can Property Be Seized or Forfeited?
Generally, the police will move to seize a car, boat, or aircraft if the government can show by a preponderance of the evidence that the property was used in the commission of a crime as outlined in the statute. Yet what is surprising to most people is that even if the underlying criminal offense is later dismissed, the forfeiture proceedings can still go forward.
Under certain circumstances, almost any felony offense could subject property to seizure and forfeiture proceedings. People are also surprised to learn that certain sex offenses can trigger forfeiture proceedings as well. Criminal offenses such as DUI(driving under the influence) and "driving while license suspended" are more obvious justifications for the seizure of cars, boats, and aircrafts.
The law also allows the government to seize the personal property found in such vessels. For example, if any currency, coins, or jewels are found inside a seized boat, these items are subject to seizure and forfeiture as well, unless an owner can show by a preponderance of the evidence that his property was not acquired through the course of criminal conduct (and an independent source of funding can be established).
Drug offenses are the most common cases where seizure of property occurs. Police will move for the seizure of cars, boats, automobiles, and even houses if they believe that such property was used to facilitate, deliver, manufacture, or transport illegal substances. Once again, personal property such as currency or jewelry could be subject to seizure unless an owner can show that said property was not acquired through criminal conduct.
What Court Procedures Must Be Followed?
The government must follow strict guidelines in order to initiate and prevail at seizure and forfeiture proceedings. The police cannot just take a person's property without due process being afforded to the property owner. Once law enforcement seizes a certain property, the state must quickly seek a ruling from a circuit court that there is probable cause that the property is subject to forfeiture. Once the court finds probable cause at a hearing, the court can order the property be held until the end of the forfeiture proceedings.
A property owner must respond in writing to the government's petition for forfeiture within a given time period, and he or she has a right to appear at the hearing. A true property owner, an individual with a secured interest, or a lienholder can argue for the release of the property during proceedings. They need to convince the court that a substantial hardship will result without the access or use of said property. If the court orders the release of a property while forfeiture proceedings are pending, then the property owner must post a cash bond or security as determined by the court.
At a forfeiture hearing, the government must show by a preponderance of the evidence that the property was used in the commission of the crime in order to prevail. Likewise, the property owner or lienholder must show by a preponderance of the evidence that he, the owner, did not know or have reason to know that the property was used in the commission of a crime, or that some other exception in the statute applies. This used to be called the "innocent owner" exception.
A common example is when a car is stolen and later used in the commission of another crime. The car owner can establish that he did not know or did not have reason to know that his stolen car would later be used in a criminal enterprise. If a property owner prevails, then the court will order the release of the property as well as any cash security that was posted. If the government prevails, then it's free to dispose of the property in any manner of choosing, including sale at a public auction.
Call for a Free Initial Consultation
Since 1990, the attorneys of Mitchell S. Sexner & Associates LLC have assisted clients with criminal matters, although we don't specifically handle vehicle/property seizures or forfeitures. Our criminal defense lawyers in Chicago are experienced, aggressive, knowledgeable and can help you defend your criminal charges, however. Mitchell Sexner is a former assistant state's attorney who prosecuted on behalf of Illinois both in criminal and traffic courts before turning his attention to the defense of those charged with crimes. Each of his associates is equally qualified to assist you, so call us anytime at (312) 644-0444 for a free no-obligation consultation. You have rights, and our attorneys can help you protect them.