How to Schedule a Jail Visit in Illinois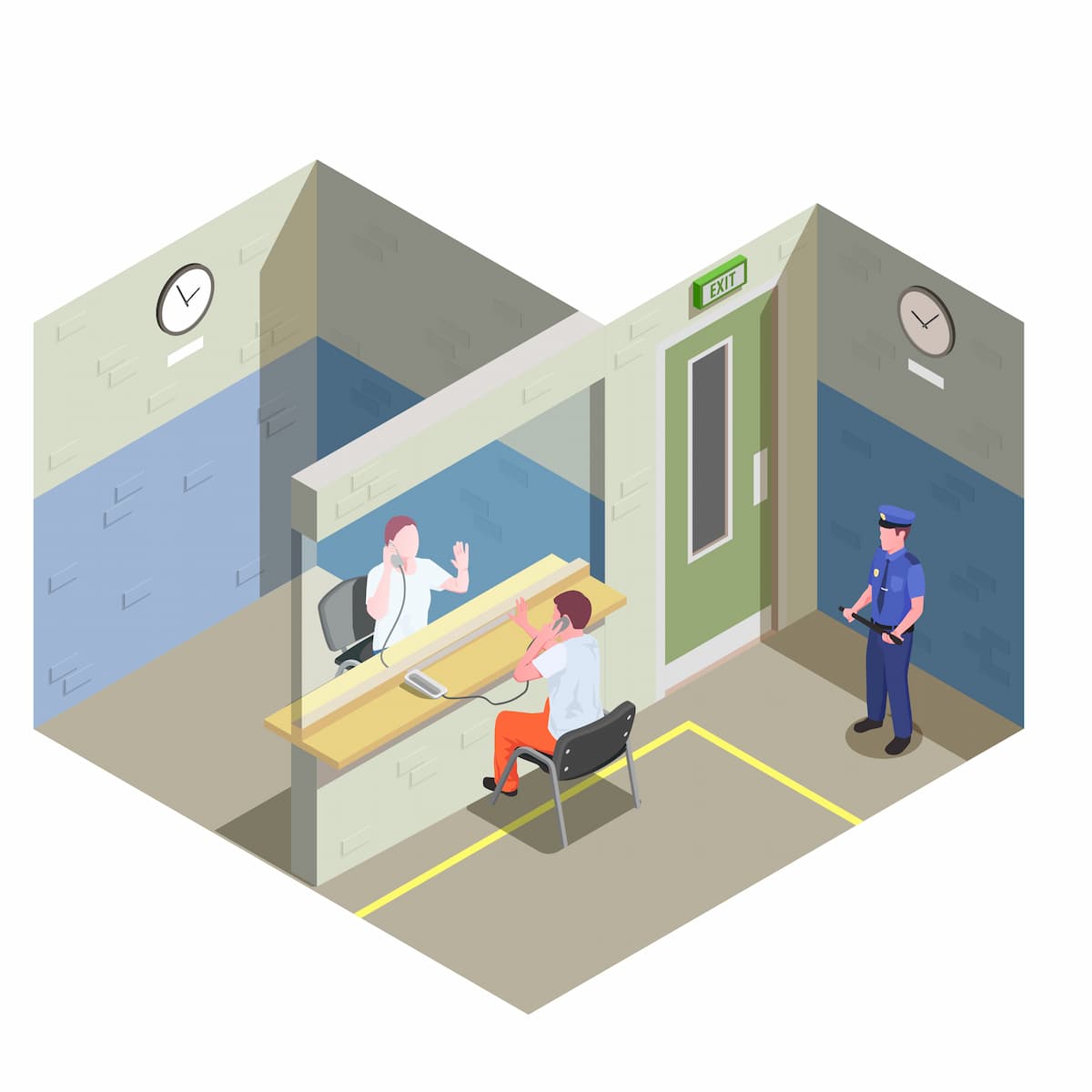 One of the hardest things about having a family member, friend or loved one in jail or prison in Illinois is not being able to contact them when you want. With strict schedules in place throughout the Illinois Department of Corrections and County Jails, phone time is limited. When you do get the chance to talk to your loved ones, all the calls are recorded. Even innocent comments taken out of context could endanger someone's case if the State can show that they were talking in "code" to conceal evidence, interfere with witnesses, or direct others to commit crimes on the outside or send them contraband.
It is important to know your options when contacting your loved ones. The rules vary depending on the prison or jail, but this article will discuss some different options at county jails in and around Chicago, and throughout the Illinois Department of Corrections, including Cook County, Kane County, McHenry County, DuPage County, Lake County and Will County. It is important that detained inmates maintain contact with their loved ones and support systems on the outside as it often helps them re-integrate back into society upon their release.
Setting up these meetings can sometimes be complicated and may require a lot of steps, so having all the proper information is crucial. Every call or in-person visit you set up with a loved one may seem like a small thing to you, but it could make that person's whole week or month.
Here are some of the procedures currently in place:
Cook County Jail
Cook County In-Person Visits
If you are looking to visit one of the 7,500 inmates currently housed in the Cook County Department of Corrections at 26th and California, your first option is to fill out a form for in-person visitation. Note: as of the time of this article, you must have received the COVID-19 vaccination and you will be expected to show proof of this upon your arrival at any of the 11 divisions.
You may apply for an in-person visitation (at least 48 hours in advance) by going to this link:
You must wear a mask, but you may be required to leave the facility by the Cook County Sheriff for any perceived security violation. It is discouraged for you to wear revealing clothing of any kind and this can also be a basis for denial of entry at the discretion of the Sheriff's office. You will be subject to pat-downs, COVID temperature screens, and metal detectors. You will talk to your loved one through a thick glass screen with a two-way microphone and you will not be allowed to touch them.
Cook County Virtual Visits
In order to do a virtual visitation at Cook County Jail with a loved one, you must have an approved app such as a Microsoft Teams account with an active e-mail address. You can get a Microsoft Teams account here for free:
https://www.microsoft.com/en-us/microsoft-teams/log-in
Once you get a Microsoft teams account, your loved one can add you to a visitation list. Each of the 11 Divisions at Cook County and Cermak Hospital has different visitation schedules. Once you are added to the virtual visitation request list, you will be contacted by a member of the Cook County Sheriff's Office to schedule an exact day and time for your virtual visitation. You must be on Microsoft Teams and ready to accept the call from the Cook County Jail, as most times they will only try to call you two or three times before they give up.
Remember, there are rules which you must follow when doing virtual visitation with your loved ones. The calls themselves will be directly monitored and recorded and there will be a member of the Sheriff's office standing nearby who will be periodically checking for any suspicious activity or response from the inmate.
You may not, under any circumstances, drink, smoke, show nudity, or engage in any inappropriate behavior while on the virtual visitation call. You may not stand up during the call; all calls must be in a seated position by both parties. You may not show up to the call with other people in the background who are also participating. Any violation of these rules will result in an immediate termination of the virtual call and a possible ban on future ability to contact your detained loved one. These rules are uniform for all jails throughout Illinois.
Lake County Jail
Currently, all visits at the Lake County Adult Correctional Facility are conducted remotely. You will need to download a "GettingOut account" on your smartphone or computer. Once you set it up, an inmate will be able to initiate a call with you through a ViaPath Tablet at the facility.
GettingOut may be downloaded at this link:
All you do to approve your visitation status is to create a working "GettingOut" account and enter your personal information, then add the inmate you would like to request contact with. After that, you can add funds to your account. The inmate may then call you during whatever allowed time they have for video visitation at the Lake County Adult Correctional Facility (which could change weekly or monthly). This is convenient as you can receive calls wherever you are, and it does not have to be at a scheduled time.
Calls are $0.25 cents per minute. If you are unable to use a smartphone or computer to receive these calls, you may schedule ahead of time to use the video visitation kiosks in the lobby of the facility itself. Inmates also receive one free call per week at this facility.
DuPage County Jail
DuPage also uses the "GettingOut" account system to schedule inmate visitation.
In addition, inmates are allowed to receive one thirty-minute visit per-week. Inmates who have a proven record of good behavior, called "Trusty" inmates at DuPage, may receive a single 60-minute visit or two 30 minute visits per week.
McHenry County Jail
The McHenry County Jail conducts their virtual visitation using what is called "ICS Mobile" which can be found on the iPhone app store by searching "ICSolutions."
You can schedule video visitations with inmates who approve contact from you as long as you schedule six hours in advance. You will be expected to show the McHenry County Sheriff's Office your ID upon entering the video visitation.
Due to the spread of the virus around the McHenry County area, the jail plans to conduct all visits via video visitation throughout the rest of 2022 and possibly beyond.
Kane County Jail
Kane County Jail is also only allowing video visitations at this time using the "ICS Mobile" app which can be downloaded on the iPhone app store.
Kane County Jail also has video visitation kiosks in the lobby of their facility which are also able to be used for video visitations 365 days out of the year.
The detainee must complete what is called an "Approved Visitor's List" of only immediate family members. Then, an approved visitor will register in the ICS system to request a video visitation based on available time slots at the facility.
Each detainee is allowed one visiting "group" per week. This group can include either (1) one adult, (2) one adult and one child, or (3) two adults and one child. Every video visitation must be booked at least 72 hours in advance and can only be a maximum of 30 minutes long.
Will County Jail
Will County Jail currently only has video visitation available as well. Inmates are allowed two 30-minute calls per week. Visitation hours are every day from 9:15 am until 12:00 pm and then again from 1:00 pm until 4:15 pm.
If you wish to book a visit, you must call this number: 815-774-7950. You must call this number and book at least 24 hours before your desired visit time. You may not schedule a visit more than 48 hours in advance. After scheduling the visit with the Will County Sheriff's office, you will check in at the Will County Video Visitation Center on 20 South Chicago Street in Joliet, Illinois. You will then be put in front of a computer screen and assisted as you connect with your detainee. If you do not bring a valid state ID you will be denied your video visitation.
It is important to note that you must also arrive 15 minutes prior to your scheduled appointment time if you wish to have a video visitation call with the Will County Jail. If you cancel your scheduled appointment time without calling ahead, it could result in your future video visitation rights being restricted.
Virtual Visitation at the Illinois Department of Corrections (IDOC)
Thankfully, virtual visitation happens the same way at all the below listed facilities in the Illinois Department of Corrections:
In order to virtually visit an inmate at any of the prisons in the Illinois Department of Corrections, you will need to follow three basic steps:
Step 1: Make an Account on Global Tel*Link ("GTL")
The first thing you must do to virtually visit a detained inmate at any prison in the Illinois Department of Corrections is make an account at this web address:
https://ildoc.gtlvisitme.com/app
You will be asked to provide personal information and also a list of any inmates you are hoping will "approve" you to visit with them. The inmate will be informed you have requested to be added to their list and they may accept or decline. Once you register yourself you may then add family members (children or household members) who you may also visit with. Your user interface will show not only your approved inmates, but also your approved household members.
Step 2: Schedule the Visit
Once you have your account set-up, scheduling a visit is easy. You can scroll to the bottom of your GTL homepage and click "Select Inmate." You can then choose from a drop-down list of all your approved inmates. Then click "Visit Inmate." The facility will then guide you to the available visitation times.
Most facilities require a week to a month in advance, so make sure you request the visit far in advance. Rarely does a facility allow same-day visits, but some of the smaller ones do.
Prices for the video visits vary based on the facility and the amount of time allowed per visit also varies widely. Most facilities offer three different options as of the time of this article:
15-minute video visits for $3.75;
25-minute video visits for $6.25 (most common); or
55-minute video visits for $13.75.
Your upcoming visits will then be displayed on your GTL homepage. The display page will tell you exactly when the visits are and how much time you have left until you are allowed to check-in to the visit. It will also display a unique confirmation code that you may use to contact the facility directly with any questions about your specific visit.
Step 3: Read the Illinois Department of Corrections Rules and Guidelines for Virtual Visitation Before Your Visit
The final step is to read the Illinois Department of Correction visitation rules found at this link prior to your first visitation:
https://idoc.illinois.gov/facilities/visitationrules.html
The rules are simple and most of them revolve around a few main prohibited behaviors which can get your visitation privileges restricted or banned:
No nudity or sexual behavior
No gang behavior (throwing gang signs) or showing the inmate depictions of any gang activity or disturbing content
No filming the prison visit
No unauthorized visitors appearing with you on the scheduled video call
Depending on the seriousness of the offense, you may be banned temporarily from visiting with a particular inmate or banned for life from using the GTL video-visitation system to meet with any inmates. The call will be terminated immediately upon the occurrence of any of the banned behaviors.
Inmates can receive a maximum of one video call per day and usually only two calls per week.
In-Person Visitation at the Illinois Department of Corrections (IDOC)
Every facility in the Illinois Department of Corrections has slightly different in-person visitation guidelines. These visitation schedules can change based off facility lockdown schedules, COVID restrictions, current prison capacity, and any other infrastructure changes within the facility itself.
The procedure for going to an in-person visitation is essentially the same throughout the Illinois Department of Corrections, and for each facility you must:
Confirm You Are on the Detained Inmates Approved Visitor List
This is important to confirm before you take the time to travel out to a facility. If you are not approved on the inmate visitor list at the specific facility you would like to visit, you will be denied entry.
Completion of a "Prospective Visitor's Interview" Form
On your first visit to any facility, you will be expected to complete a Prospective Visitor's Interview form which requests many different categories of personal information. You will also be expected to explain how you know the detained individual. You may be subjected to additional interview questions, strip searches, dress code checks, and contraband searches of any kind. You will need two forms of state ID.You will be allowed a locker in almost all facilities to store personal items during the length of stay of your visitation.
Arrive at the Facility at the Designated Visitation Hours
It is important that you arrive on time. Call the facility ahead of time to ensure that it is not currently on lockdown. Be patient when dealing with staff members as you will not receive any preferential treatment by disrespecting them. If you are disrespectful to staff members, you may be made to wait for a very long time before you see your loved one.
You will then be brought to a designated visitation room (after COVID, almost all facilities will have this room separated by a partition with everyone required to wear masks). You may then see your loved one. Anyone under 17 is required to be accompanied by an adult over 18. If you have travelled a long distance (over 100 miles) to see someone, you may ask the facility for a special arrangement (such as a longer visitation time). All special arrangements should be confirmed with the facility beforehand.
Don't Break Any Facility Rules
The last thing you need to remember is not to break any facility rules. This includes bringing in any contraband, attempting to give anything to an inmate, wearing revealing clothing or attempting to violate any of the other listed rules at each individual facility.
Speak to the Legal Team at Mitchell S. Sexner & Associates LLC
If you have a loved one who is incarcerated in Illinois and needs representation, call Mitchell S. Sexner & Associates LLC right away. We have more than 30 years of criminal defense experience and have successfully represented more than 20,000 clients. Our attorneys are honest, hard-working, and will do everything in their power to get your loved one out of jail as quickly as possible. No matter what the situation, we will fight vigorously on your behalf. For more information on our services, visit our contact page or call (312) 644-0444 for a free confidential consultation.