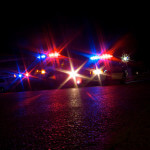 In this modern Internet age, many people looking for love rely on websites to find dating partners. A man looking for love on Craigslist learned the hard way why it is sometimes a mistake to do so. Having found a woman who was looking for "dating," the pair then checked into a motel room. It was inside the room where the date took an almost fatal turn.
The woman asked the man several times along the way if he was a serial killer, and after he assured her that he wasn't, she is alleged to have said, "Well, I am a serial killer." The man said that she then sat on top of him, grabbed a pocket knife, and stabbed him once in the chest. He managed to break free, and called 911 from the motel office.
When the police arrived, the woman was still in the motel parking lot, so the man identified her and she was taken into custody. The man told police that he almost didn't break free—he had difficulty due to her weight.
Eat Your Heart Out
According to police, the woman indicated her intention to kill the man and eat his heart. She then intended to leave a note with the body indicating her intention to kill again. She has been charged with Attempted First-Degree Murder, and is being held in lieu of $1,000,000 bail. If the man's story is all true, then this case does go down in history as the official Worst First Date Ever.
Attempted first-degree murder, if it occurred in Chicago or elsewhere in Illinois, is considered a Class X felony, and it carries a potential sentence in prison of no less than six, or more than 30, years. Probation is not an option in such a case. This woman's ill-advised statements to the police, if truly made, are strong evidence of her specific intent to commit murder. Even without the admissions, her conduct, if true, would certainly go a long way towards proving her intent.
Anyone charged with a serious criminal case is presumed innocent. Still, to defend such charges, one needs Chicago criminal defense lawyers who are experienced, aggressive, and dedicated, like the lawyers at Mitchell S. Sexner & Associates LLC. We have many years of experience handling the defense of a wide variety of criminal charges, with proven results. Call us today at (800) 996-4824 to schedule an in-person, confidential, no-cost and no-obligation consultation at either our Chicago or our Arlington Heights location