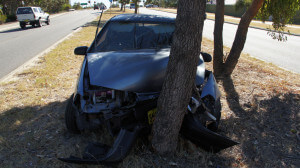 It's every American's right to put a hood ornament on their car if they choose to do so. It's certainly not against the law even if it's big, ugly, or tasteless.  It can even light up if that's your thing. But there are limits. Late on a recent Saturday night, a tree was seen driving the streets of Roselle. More accurately, the tree was embedded in the front end of a car which was driving the streets. This enormous wooden hood ornament was about 15 feet tall. The Roselle Police Department posted the pictures on their Facebook page which have since gone viral. And with good reason, as it was quite a site.
The scene was witnessed by another driver on the road who contacted police. The police then stopped the vehicle. The Schaumburg woman driving the tree-impaled car said that she hit the tree while driving in Schaumburg, but didn't know where. She then proceeded to drive with the tree sticking out of the front end of her car until she got to the neighboring city of Roselle, where she was pulled over.
It's hard to go unnoticed with a 15 foot tree sticking out of your car. And once pulled over, the driver, who smelled of alcohol according to police, was ticketed for DUI (driving under the influence) after she failed sobriety tests given on the scene.
DUI is a serious matter which requires a knowledgeable, experienced, and aggressive attorney.  At Mitchell S. Sexner & Associates LLC our lawyers have over 25 years of experience defending our clients' rights. Call now to see how we can help.
Contact us at (312) 644-0444.