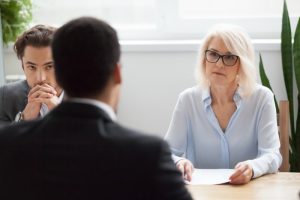 When a person is charged with a criminal or traffic matter in Illinois, the defendant's attorney will typically seek out the state's attorney or local prosecutor in an attempt to negotiate a plea agreement and avoid a trial if at all possible. Then, depending upon the negotiating skills of the defense attorney, the receptiveness of the prosecutor, the particular facts of the case and the defendant's criminal or traffic background, a reasonable agreement can often be reached. A plea negotiation is never binding on the defendant, which means that no matter how long or complicated the discussions with the State's Attorney, it's always up to the client to decide whether he or she chooses to take the deal that is on the table.
Usually, plea negotiations are accomplished directly between the defense attorney and the prosecutor without any outside influences. But in certain circumstances, others will impact the plea discussions and make negotiations more difficult or protracted. Some of these circumstances include:
Victim Impact
Many traffic and criminal cases in Chicago and elsewhere are considered "victimless", meaning that no other parties were injured or harmed in any way by the crime. Examples of these might be aggravated speeding, drug possession, unlawful use of weapons, suspended or revoked driving, and depending on the circumstances, solicitation of prostitution. For these types of crimes, there are typically no victims that are notified of the court proceedings.
But a great many types of cases in Chicago (Cook County) and other nearby counties like Lake, Kane, DuPage and Will do involve actual victims. Examples of crimes that involve victims include DUI accidents, battery, assault, domestic violence, leaving the scene of an accident, damage to property, retail theft and sexual assault/abuse. An Illinois law called the "Rights of Crime Victims and Witnesses Act" gives these victims of criminal and traffic cases the right to be involved in the court proceedings. Some of these include the right to:
Be notified of all court hearings
Communicate with the prosecutor
Be heard and speak in court before certain proceedings
Have the safety of themselves and their family considered when setting bail and conditions of release including electronic monitoring and GPS monitoring.
Be present at trial and other court proceedings
Although in many situations, criminal and traffic victims choose not to involve themselves in court proceedings, in other cases they choose to be very involved, attending each court date, bringing family members and clergy, and staying in constant contact with the State's Attorney or local prosecutor. When victims are involved in this way, it often brings great pressure on the prosecutor and can significantly affect the course of the negotiations and/or trial.
Victim Witness Advocate Impact
In most counties in Northern Illinois, the State's Attorney's Office employs what are called Victim Witness Advocates, who are typically non-lawyers who may or not be licensed counselors or therapists. The purpose of these people is to help guide the victim through the court process and to make sure that their rights and their safety are protected. The most common types of cases that utilize such an advocate involve domestic violence, domestic battery, sexual assault and sexual abuse crimes. These advocates may sometimes be aggressive in pushing the victim to demand a certain sentence or result from the prosecutor, which can also complicate negotiations.
Press Impact
No one likes other people looking over their shoulder while they're working and prosecutors are no exception to this observation. So, when the press (whether it's a reporter for a TV station, radio station, newspaper or social medical outlet) takes interest in a pending traffic or criminal case, it puts pressure on the State's Attorney or local prosecutor. They know that whatever they do will be reported or posted online and hence scrutinized by the public. Others may not approve of the job that they did in prosecuting the case and it may affect their job adversely as a result. Accordingly, when the press is involved in a case, it may also make negotiations more difficult.
Supervisor Impact
Almost everyone works for someone, and this includes prosecutors. Assistant State's Attorneys in Cook (Chicago), DuPage (Wheaton), Kane (St Charles), Lake (Waukegan), McHenry (Woodstock) and Will (Joliet) counties have supervisors, and their supervisors have superiors as well. Even Local prosecutors who work directly for a city or municipality are responsible in some way to those who pay their salaries and as such, sometimes need to follow instructions. Although for the vast majority of cases a prosecutor has discretion to handle the case in a manner which they feel is best, this isn't always the situation. Sometimes, a supervisor will limit the prosecutor in what can be offered on a particular case. When this happens, negotiations can become more complicated and it may require the defense attorney to deal directly with the prosecutor's superior for further discussions.
Third Party Organizations
In some cases (especially DUI offenses), third party organizations such as AIIM (Alliance Against Intoxicated Motorists) or MADD (Mothers Against Drunk Driving) may become involved and make their opinion strongly known to the prosecutor. Although a prosecutor isn't required to meet with non-victims of cases, the opinions of these third-party organizations often-time affect do affect the course of plea negotiations as well.
Over 10,000 Plea Negotiations Since 1990
The legal team at Mitchell S. Sexner & Associates LLC has taken part in well over 10,000 criminal and traffic plea negotiations since we first opened our doors over 30 years ago. Our attorney know what needs to be done in order to give our clients the best chance for success. You can reach our office 24 hours a day at (312) 644-0444 for a free consultation.