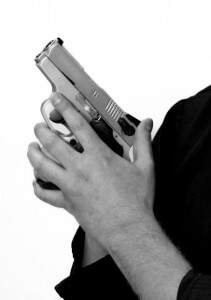 It is a simple equation - if you commit a crime with a gun, you may be looking at some serious jail time. Depending on the type of crime you commit and the level of violence involved, the charges could compound upon one another. Prosecutors generally waste no time in seeking the harshest punishment available. But, with a strong defense you could avoid the worst and get your life back on track.
Recently, a young man was sentenced to four years for the armed robbery of a Lake County business. The 22 year old thief held a Dollar General employee at gunpoint and threatened to kill her if she did not submit to his demands. He then put his backpack on the counter, walked around and ordered her to give him all the money in the register. The attendant put $305 in the man's backpack, at which point he fled the store.
A Merrillville K9 unit caught the man. The backpack was recovered with both the money and the handgun inside. As part of the man's admission of guilt, he received a plea deal for two years in Indiana prison and another two years in Lake County Community Corrections. Had he not pled guilty, the man could have been jailed for up to 16 years.
If you are facing weapons related charges contact Mitchell S. Sexner & Associates LLC today and schedule a free consultation. We can help you.
Call us today at (800) 996-4824.