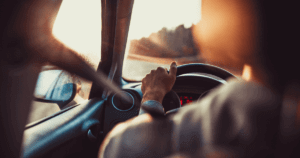 Even though Spring is upon us, that doesn't mean that Illinois is finished with wintery weather. One of the most aggravating aspects of dealing with ice and snow involves cleaning off your car during cold and blustery days. Sometimes, we may only clear off part of our windshield so that we don't have to spend more time than necessary out in the freezing air. Distracted driving, or driving with an obstructed view, however, can not only be dangerous for yourself, but it can also put others in harm's way. That is why law enforcement takes driving with an obstructed view so seriously, as it could land you in some serious legal trouble or contribute to a serious accident.
What Is An Obstructed View During Driving?
Snow and ice aren't the only situations that may lead to an obstructed view. Some are even as simple as an ornament on your rearview mirror. Here are a few more ways you might be cited for violating Illinois traffic laws regarding driving with an obstructed view:
Tinted Windows
It is illegal to treat windows adjacent to the driver with certain treatments or tints. You may, however, use tinted window films on your windshield as long as it extends no longer than a certain number of inches from the top of the windshield.
Hanging Objects on Mirrors
Fuzzy dice and air fresheners are a nice way to jazz up your car, but they're also a great way to be pulled over by police. Believe it or not, it is often considered a traffic violation under Illinois law to have any signs or materials hanging from your rear-view mirrors, rear windows, side wings, or side windows.
Putting Up Signs or Posters
Signs, posters, window applications, reflective, and non-reflective materials are typically illegal to have posted in your car. Unfortunately, that includes those hula figurines you can stick on your dashboard.
Defective or Impaired Windows
Driving with a crack on your window or windshield that obstructs vision is illegal under Illinois law, as is using paper or plastic bags to tape over broken windows. If your side or rear-view mirrors are broken or defective in any way, it could also land you in trouble during a traffic stop.
Driving With An Obstructed View
If you are caught driving with an obstructed view, you could be sentenced to fines or other penalties. It's best to leave your car free of any objects or displays that could obstruct your view, and you should always have a window scraper or cleaner to make sure that your car is not covered with any snow, ice, or excessive moisture. There are some exceptions to these rules, however. For example, if you have certain medical conditions that make you sensitive to light, you are able to apply for a permit allowing you to have more darkly tinted windows.
Contact a Criminal Defense Lawyer Today
If you have been issued a traffic ticket involving driving with an obstructed view, call the traffic violation attorneys at Mitchell S. Sexner & Associates LLC right away at (312) 644-0444 for a free initial consultation.We can help advise you concerning whether we believe that you were wrongfully cited and if so, try to dismiss the citations against you. You can visit us at one of our convenient office locations including Arlington Heights and Chicago. You'll find our phone lines open 24 hours a day, 7 days a week.