Chicago Police Arrest 140 in Raids on Gangs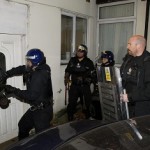 Chicago police implemented a two-day operation netting thousands of dollars in drug money and a great number of weapons, as well as the arrest of 140 people. This raid on the gangs was one of the largest in Chicago history.
The purpose of the operation was to get weapons off the street and to hopefully curtail the incredible amount of gun violence currently occurring in Chicago's neighborhoods. Ideally, the raids are intended to curb the hostilities and remove some of the threat (both guns and perpetrators) before the summer months begin. Through the first half of May of this year, murders in Chicago increased by 62 percent over the same period last year, while shootings are 60 percent higher.
Shortly after the raids were announced by police though, in an apparent gang-related incident, 2 people were shot blocks away from police headquarters where the announcement was made. One person was killed, and another was injured. The injured man was the apparent target.
But the message was clear, according to the new Chicago police superintendent, that violence will not be tolerated, and those participating will be subject to prosecution to the fullest extent of the law. This was part of the Chicago Police Department (CPD) effort to upset the organized gang activity that occurs in the city.
Of the 140 arrested in this raid, 117 were on a list of those in the city most likely to be associated with gun violence (either as victim or perpetrator). In addition to the arrests, drugs worth $45,000 and a total of 23 guns were seized.
If you are facing criminal charges, you need an experienced defense attorney to fight for your rights. Despite the best efforts of police, it is always necessary for the police to secure proper warrants supported by sufficient probable cause evidence when seeking to perform raids or execute arrest or search warrants. The Chicago criminal defense attorneys at Mitchell S. Sexner & Associates LLC have been representing clients in criminal matters for over 25 years, and we have the experience and knowledge to help you. Call us at (312) 644-0444.
https://www.nytimes.com/2016/05/21/us/chicago-gang-raids?_r=0