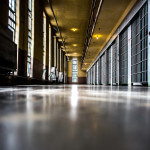 A man, who had previously been sentenced to life in prison for murder, was freed from Chicago's Cook County Jail after serving over 22 years of the sentence. The man was convicted of murdering two men in what appeared to be a drug deal that went bad. But, after demonstrating to an appellate court that he had ineffective counsel at trial, it was ordered that the case be heard by a new judge. After the review and new hearings where additional alibi witnesses were heard, the judge found that at least one of those witnesses was credible and could have led to a verdict of not guilty. So, a new trial was ordered. Although it was anticipated that the prosecutors would re-try the case, they ended up dropping the charges altogether, which led to the release. The judge blamed the original trial lawyer for not interviewing critical witnesses who could have supported alibis.
One person noticeably missing from the release celebration was the investigator who had been hired to work the case. She passed away three years ago and didn't get the opportunity to see justice prevail and watch her client regain his freedom in what she felt was her most important case. It was through her efforts that a new attorney took on the case which eventually led to throwing out the case and his release.
Although some attorneys describe a trial as an event when both sides just tell their story and the judge or jury just decides who is telling the truth, this is a vast oversimplification. Complicated legal rules apply to every criminal case, and an experienced attorney will take advantage of every opportunity to win on their client's behalf. Especially in the case of an alibi witness, the attorney must speak to each such potential witness as that may be the difference between winning and losing.
If you are accused of a crime, you need to have the best attorneys fighting for your rights and ensuring that you get the best possible defense in court. The attorneys at Mitchell S. Sexner & Associates LLC can assist you. Call us at (800) 996-4824 for a free case analysis and to discuss how we can help you.
Source: http://www.chicagotribune.com/news/local/breaking/ct-charges-dismissed-convicted-murderer-released-met-20160419-story