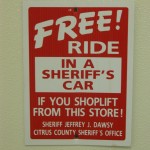 A suburb of Chicago, Aurora spans the counties of Kane, DuPage, Kendall, and Will. Just this week, an elected alderman from Aurora was arrested for the second time on retail theft of merchandise from the same Meijer store location. According to Aurora police, the alderman paid for several items in her shopping cart, but left the store without paying for other items.  A security employee at the store witnessed her putting about $55 of pencils, markers, party favors, and ibuprofen into her purse. Less than three years ago, the alderman had entered a plea of guilty to taking groceries and beauty items from the same store. For that prior charge, she received supervision.
Although the Mayor has called for her resignation, the alderman has indicated that she will not step down at this time.
In Illinois, retail theft is commonly referred to as shoplifting. It includes any person who enters a place of business and takes any item without paying for that item. If the total is under a certain set dollar amount, then the defendant will usually be charged with a misdemeanor (as was the case with the alderman). But, under other circumstances, when the dollar amount is higher, the defendant may be charged with a higher crime called a felony. Felonies are punishable by jail in excess of one year.
All attorneys on the legal team at Mitchell S. Sexner & Associates LLC are experienced criminal lawyers knowledgeable in all aspects of cases like retail theft. We offer free initial consultations to help those arrested for such crimes. Call us today at (800) 996-4824 to discuss your case, free of charge.
Source: http://www.chicagotribune.com/suburbs/aurora-beacon-news/crime/ct-abn-aurora-alderman-theft-arrest-st-0202-20160201-story