Paul Piro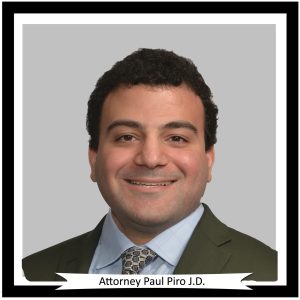 Attorney Paul Piro is a graduate of Michigan State University, the DePaul University College of Law and is fully licensed for practice by the Illinois Supreme Court. While still at DePaul, he worked for the Cook County Public Defender's Office in the Felony Trial Division, where he litigated serious criminal offenses including Class X Delivery of Controlled Substance, Failure to Register as a Sex Offender and Unlawful Use of Weapon cases. After graduation, he went on to work for several notable Chicago-area law firms which concentrated in the areas of wrongful conviction and high-profile criminal defense cases.
A skilled communicator and author, Attorney Piro has contributed to many technical legal articles that continue to be a source of valuable information for both attorneys and clients of our firm.  Some of these articles include: Field Sobriety Tests in Chicago Drunk Driving Cases, Cannabis Laws in Chicago and Across Illinois, New Illinois Law Affects Driver's Licenses, Police, Bail and Criminal Cases, Speeding Ticket Tools, Tactics and Tricks, and a soon to be released article which explains what Deferred Prosecution is and how it can benefit those accused of both traffic and criminal offenses.
At Sexner & Associates LLC, Mr. Piro has successfully represented countless clients in both the areas of criminal and traffic law.  In his continuing efforts to secure the very best possible outcome, he brings to the table a notable attention to detail, meticulous research skills and a dedication to the best interests of all clients he represents. Attorney Piro has litigated a wide variety of matters including DUI (alcohol, drugs and cannabis), battery, suspended and revoked license, retail theft, aggravated speeding, reckless driving, possession of controlled substance (PCS), possession of stolen motor vehicle (PSMV), disorderly conduct, domestic battery, and accident cases just to name a few.
To set up a free consultation with Attorney Paul Piro or for further information, he can be contacted at (800) 996-4824 or via email at Paul@Sexner.com.