Cleveland A. Tyson Jr.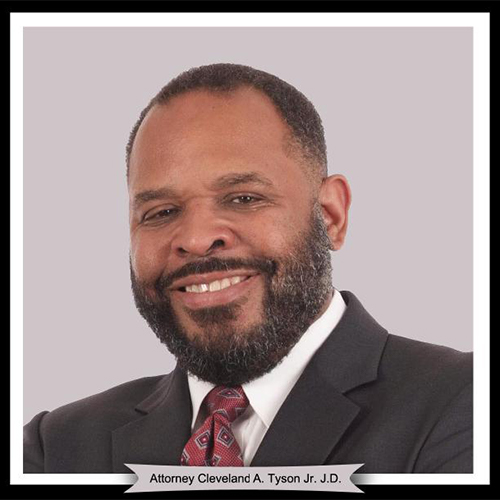 Born and raised in the Chicago area, trial lawyer Cleveland A. Tyson, Jr. is a Senior Associate Attorney at Sexner & Associates LLC and a valued member of this respected legal team. With over twenty years of experience prosecuting and defending both criminal and traffic cases, his legal knowledge and insights have helped him develop aggressive criminal defense strategies that he employs while pursuing successful results for his clients. Mr. Tyson always strives to treat his clients with all the dignity and respect that they deserve while helping them through what are often difficult times.
Before joining Sexner & Associates LLC, Mr. Tyson was an Assistant Prosecutor for the St. Louis County Prosecuting Attorney's Office, where he took part in thousands of felony and misdemeanor cases, while establishing an impressive history of successes during both jury and bench trials. These matters included murders, sexual assaults, assaults, gun cases, robberies, burglaries, DUI/DWIs, drug cases, thefts, forgeries, arsons, and traffic matters. He was also handpicked to join the Sexual Assault and Child Abuse Team, where he was recognized for his talent in the unique and complex practice area of violent crimes against children.
Mr. Tyson eventually left the Prosecuting Attorney's office to enter private practice so that he could focus 100% on criminal defense. He draws from extensive experience and insights gained as a former prosecutor to defend clients in matters all across Illinois and Missouri (where he is licensed in both states), while handling each case as effectively and intelligently as possible. If a positive resolution cannot be negotiated with the State, Attorney Tyson always stands ready to go to trial to fight for his clients. As a result of his talent and commitment to making a real difference in the lives of clients and their loved ones, he has been successful in hundreds of criminal matters at both the state and federal level, achieving numerous not guilty verdicts in the process.
Cleveland received his B.S. from Rockford University and his J.D. from the University of Iowa where he served on the Iowa Law review, the Moot Court Board and as Assistant Director of the Student Legal Services at the University of Iowa Legal Clinic. He was awarded the "Faculty Award for Client Service" as a result of his extensive efforts on behalf of his clients.
For further information or to set up a free consultation with Cleveland A. Tyson Jr., contact him at Sexner & Associates LLC at (800) 996-4824 or by email at cleveland@sexner.com.