Ari M. Trubitt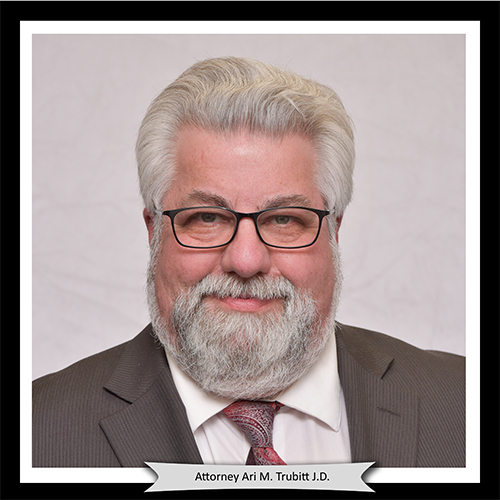 Ari Trubitt is a Senior Associate Attorney at Sexner & Associates LLC and a life-long Chicago area resident who graduated from the University of Illinois and the John Marshall School of Law. He began his legal career as an intern at the Cook County State's Attorney's Office and soon thereafter moved to a law firm from which he began practicing all manner of criminal defense from minor traffic offenses and misdemeanor cases up to first-degree murder.
Within his first two years of practice, he had already been sworn into the Federal Bar for the Northern District of Illinois, the Eastern District of Wisconsin, and the Seventh Circuit Court of Appeals; a remarkable accomplishment. He has represented clients on felony charges not only in Illinois, but in Wisconsin, Michigan, Indiana, Ohio, and California, as well as on federal cases in the Central and Southern Districts of Illinois and the state of Nebraska. He brings a lifetime of criminal and traffic law experience to the table.
Over the following period of nearly 15 years, Attorney Trubitt then exclusively represented union members for all their traffic and criminal offenses, including a high volume of DUI, domestic battery and assault cases. During this time, he also appeared on behalf of hundreds of clients during deportation (removal) hearings and other clients in their efforts to obtain lawful citizenship status, using immigration knowledge that he still employs on a daily basis to assist non-citizens charged with criminal and traffic matters.
A past member of the Illinois State Bar Association's "Traffic Law and Courts Committee", he has lectured at legal seminars and authored articles related to DUI law and the like. He has served the public as a member of the Judicial Evaluation Committee and as chairperson of those committees whose job it is to evaluate candidates for judicial positions and to rate them.
At Sexner & Associates LLC, Mr. Trubitt is also the Senior Attorney in charge of Secretary of State Hearings. In this capacity, he represents clients charged with suspended and revoked licenses before the State of Illinois. His vast experience in this area has earned him a highly successful record of winning back driving privileges for hundreds of drivers.
For further information or to set up a free consultation with Ari Trubitt, contact him at Sexner & Associates LLC at (312) 644-0444 or by email at ari@sexner.com.