Marcos D. Reyes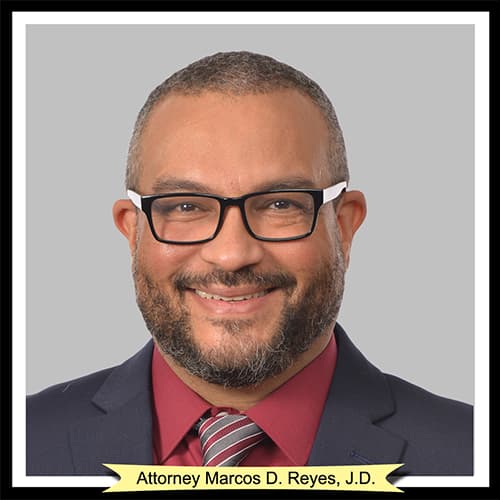 Born and raised in Puerto Rico, Attorney Marcos Reyes moved to Chicago to attend college at Loyola University where he received his B.S. in Psychology and later attended the Loyola University Chicago.School of Law where he was awarded a fellowship for the CIVITAS ChildLaw Center Program and appointed as Managing Editor of the Children's Legal Rights Journal. While still in law school, he also clerked for the Executive Office for Immigration Review in Chicago, the Chicago Legal Clinic and the Law Office of the Cook County Public Defender.
Mr. Reyes spent the next twenty years working both in private criminal practice and in government service rising through the ranks of the Cook County Public Defender's Office, where he held the position of Supervisor both in Traffic and Misdemeanor as well as Felony Courts, supervising other experienced attorneys. Later, before joining Mitchell S. Sexner and Associates LLC, he was promoted to the position of Chief as well.
Marcos has litigated hundreds of cases by bench trial and jury trial, achieving an impressive history of successes during his legal career. As a result, Mr. Reyes has extensive experience in all kinds of cases ranging from murder, sexual assault, aggravated battery, robberies, kidnappings, gun cases, burglaries, DUI/DWIs, controlled substance cases and traffic matters. Mr. Reyes has also handled criminal appeals and post-conviction matters. Mr. Reyes is an excellent legal writer and researcher who has successfully had charges reduced or thrown out based upon his legal filings.
Attorney Reyes has decades of experience defending traffic and criminal cases, from minor offenses to the most serious of felonies and misdemeanors. He is dedicated to using his vast experience and energies to help his clients overcome the significant legal hurdles that a criminal or traffic case often presents. As a zealous legal advocate for his clients, Mr. Reyes prides himself in his ability to achieve positive results for his clients whether by plea negotiations or trial. The client is the main priority for Marcos Reyes. As such, after a thorough evaluation of each case, he will always offer his best legal advice about what path is most likely to lead to a successful conclusion.
For further information or to set up a free consultation with Attorney Marcos Reyes, contact him at Sexner & Associates LLC at (800) 996-4824 or by email at marcos@sexner.com