¿Cuándo Me Puedo Resistir A La Policía?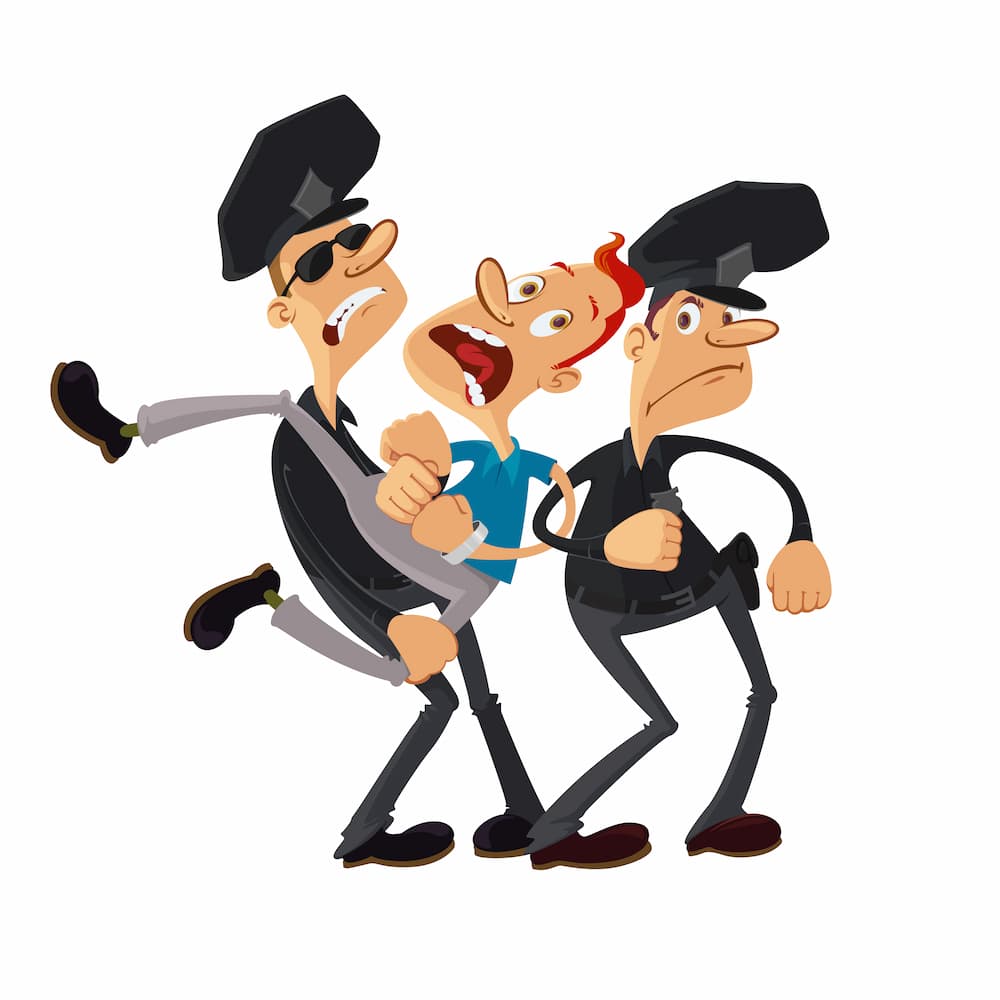 Solo se está ocupando de sus propios asuntos cuando, de repente, un oficial de policía lo confronta, muestra una placa, afirma su autoridad y le ordena que cumpla. "Espera un minuto, ¿no es esto Estados Unidos? ¿No tengo derechos bajo la Constitución?" La respuesta es sí, por supuesto que tienes derechos; pero resistir u obstruir a un oficial en el desempeño de sus funciones no está entre ellos.
La situación típica en la que uno podría esperar encontrarse en problemas es mientras conduce en tráfico pesado. Puede haber obras, una respuesta de emergencia o algún otro obstáculo. Puede haber personas, policías u otros socorristas que puedan estar dirigiendo el tráfico alrededor del área afectada. Por alguna razón, no obedeció una señal clara que le dieron para que se detuviera o es posible que casi haya golpeado a un servicio de emergencia. Según el Código de Vehículos de Illinois, puede ser culpable de una infracción de tránsito menor que conlleva una multa mínima de $150.00 más los costos judiciales que pueden duplicar esa cantidad, por lo menos. Incluso si no vio la señal, es posible que tenga una batalla cuesta arriba en la corte, porque es ampliamente conocido que los conductores deben prestar atención y reducir la velocidad al pasar por una zona controlada.
Gracias a un fenómeno reciente conocido como la pandemia de Covid 19, ahora todos somos plenamente conscientes del poder de nuestro gobierno para inhibir nuestra libertad de movimiento y nuestra libertad de reunión, etc. Se nos dice que nos quedemos en casa y mantengamos distanciamiento social adecuado cuando salimos (solo para fines esenciales), pero muchas personas quieren desafiar la autoridad de la policía para hacer cumplir la orden del Gobernador. Aquellas personas que lo hagan están en violación del Código de Salud Pública de Illinois, que establece que cualquier persona que se niegue a cumplir con una orden de cuarentena, cierre o alejamiento es culpable de un delito menor de Clase A, punible con hasta 364 días de cárcel. una multa de $2,500 o ambas. En Chicago, el alcalde ordenó a la policía emitir advertencias y, si fallan, emitir una multa de $500 según una ordenanza de Chicago y, si eso falla, arrestar al infractor según la ley del estado de Illinois. The Village of Oak Park recientemente publicó en su sitio web que la ley estatal se hará cumplir en su aldea. Es posible que tenga derecho a reunirse libremente, pero el interés en la salud y la seguridad públicas supera con creces su interés en la libertad de movimiento.
Digamos que un oficial lo arresta por un presunto delito, por el cual usted sabe que es absolutamente inocente, y el arresto es ilegal. ¿Cuál es la ley sobre esto? No puede resistirse al arresto, obstruir al oficial en el desempeño de su deber declarado ni obstaculizar su desempeño de ninguna manera. La ley prohíbe rotundamente el uso de la fuerza física para derrotar cualquier arresto, legal o ilegal, en la Sección 7-7 del Código Penal, ya que la Sección 7 detalla qué es el uso autorizado de la fuerza en la mayoría de las situaciones. Dependiendo de cuánta fuerza use el ciudadano para resistir, generalmente se determina qué tan serios serán los cargos criminales. Tenga la seguridad de que, en estas situaciones, casi siempre habrá cargos penales.
El uso de cualquier cantidad de fuerza, incluso si es el simple acto de negarse a colocar los brazos detrás de la espalda para esposarlo, incluso si el oficial no sufrió daño, se considera resistir u obstruir a un oficial de paz y es un delito menor de Clase A, que conlleva una condena obligatoria si es declarado culpable. Si un oficial resulta herido y la causa inmediata de la lesión fue el acto de resistencia, entonces se convierte en un delito grave de Clase 4. Esto se aplica incluso cuando la lesión no se infligió intencionalmente, sino que fue un accidente durante la lucha.
Si el uso injustificado de la fuerza por parte de uno resulta en daños corporales a un oficial, incluso daños corporales leves, las sanciones son, como mínimo, un delito grave de Clase 3 (2 a 5 años de prisión, hasta 30 meses de libertad condicional, multas de hasta $ 25,000.00, etc.), hasta un delito mayor de Clase X si se trata de un arma de fuego. Incluso la mera amenaza de violencia a un oficial se considera asalto agravado, y si se trata de un arma, es un delito grave de clase 4. Si no hubo un arma involucrada, la mera amenaza es un delito menor de Clase A.
No sirve de nada tratar de huir de un encuentro con la policía. Como mínimo, es resistir u obstruir a un oficial. Si huye en un automóvil, se convierte en un delito menor de Clase A de fuga/intento de eludir a la policía y, en caso de condena, su licencia de conducir se suspende durante 6 meses. Si el acto de huir involucra ciertos factores agravantes, se convierte en un delito grave de Clase 4 y, con una condena, puede resultar en la revocación de los privilegios de conducir por un mínimo de un año.
En resumen, nunca tome "la Ley" en sus propias manos, especialmente cuando esté involucrado en un encuentro policial. Tienen las pistolas, las insignias, el gas pimienta, la Taser, el garrote y las esposas, pero, lo más importante, tienen la protección absoluta de la ley de su lado cuando hacen su peligroso trabajo en las calles. Por lo tanto, no se encargue de jugar al "Abogado de Dime Store". No discutas y no te resistas. Deje que la policía "haga su trabajo", luego deje que sus abogados hagan su trabajo en la corte, representándolo en su defensa.
El equipo legal de Mitchell S. Sexner & Associates LLC ofrece una consulta gratuita para analizar su situación. Llámenos las 24 horas del día, los 7 días de la semana al (312) 644-0444 o contáctenos en línea hoy.