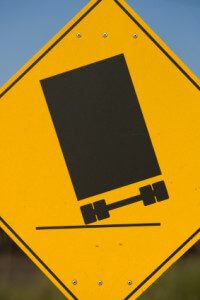 A tractor-trailer hauling 7,000 gallons of fuel slammed into a Jeep Compass, narrowly missing power lines and poles, leaving one person hospitalized.
As initially reported by the Chicago Tribune, the collision happened around 4 a.m. near 700 block of West Main Street. A female motorist traveling eastbound on Route 72 failed to stop at a red light and collided with a Mack truck that was traveling north on Route 31. Upon impact, the truck pushed the smaller vehicle through the intersection and into a nearby Jiffy Lube. The truck accident was so severe that emergency personnel had to extract the woman from her vehicle.
The at-fault driver was taken to the hospital where she was listed in stable condition. She was eventually cited for failing to obey traffic signals. The tractor-trailer suffered serious damage and began leaking gasoline, but firefighters were able to get it under control without further incident. One police officer at the scene commented, "It's a miracle that they avoided utility poles and everything else."
Considering the significant size difference between the two vehicles and the cargo being hauled, both drivers are lucky to have walked away unscathed. Tractor-trailer accidents of this kind usually result in serious injury or even death.
If you've been involved in a large truck accident, it is critical that you speak with a dedicated Chicago truck accident attorney as soon as possible. Give the team at Mitchell S. Sexner & Associates LLC a call to schedule an appointment today.
You can reach us at (312) 644-0444.