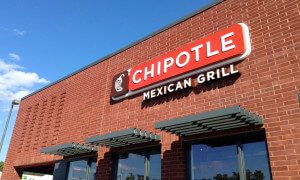 In what can only be described as the very last thing that stockholders of Chipotle possibly wanted to hear, another incident related to illness has occurred in yet another restaurant. The Chipotle restaurant was closed recently after one of the employees became sick and later tested positive for the norovirus, which is very contagious.  This serious virus can be contracted from contaminated food, from another person who is infected or by touching surfaces that are contaminated.  Symptoms often include diarrhea, nausea and stomach pain. For that reason, the presence of this virus in a restaurant is very serious business indeed.
In this particular incident, the store was closed for a full sanitization after four employees reported feeling ill, although according to the company, none of them worked while being sick. All stores nationwide, including those in Chicago, closed for a day, for a national food safety meeting. During the safety meeting webcast, the company's Co-Chief CEO told employees to let their managers know if they ever vomit whether at work or at home. Chipotle was just recovering from a recent publicity disaster last fall when more than forty restaurants were temporarily closed down for an E. coli outbreak in at least nine states. The recent news sent stocks down another six percent and undoubtedly gave many stockholders stomach pains as well.
As more people eat at restaurants, food safety is an increasing problem with ever more serious implications.  If you or a family member has been sickened, injured, or hospitalized as a result of a food-borne illness, contact Mitchell S. Sexner & Associates LLC immediately at (800) 996-4824 to discuss your situation at no cost.
Source: https://www.washingtonpost.com/news/to-your-health/wp/2016/03/09/chipotle-just-had-another-food-safety-incident/