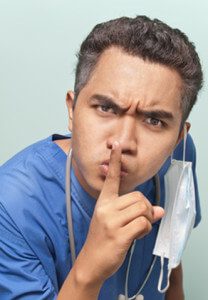 In a quote often attributed to Frank Lloyd Wright, "a doctor can bury his mistakes, but an architect can only advise his clients to plant vines." How true. When an architect makes a serious mistake, the best that he can often do to hide his error is to cover the house up with vines. But look just past the foliage and the mistakes are still there for all to see. A doctor's mistakes on the other hand, are often buried with no one ever the wiser.
Even when a medical professional commits malpractice, and the patient survives injured, a code of silence amongst medical professionals often exists. Although it does sometimes happen, it is a very rare occurrence when a nurse, anesthesiologist or other hospital staff member speaks up and tells the patient or family that an error occurred. Circumstances when the actual surgeon or doctor tells a patient about a medical error are even less frequent.
This, of course, is because no one likes to admit they failed – and that especially goes for doctors. Unfortunately, it usually falls on the patient or patient's family to discover medical mistakes all by themselves. Since 1990, patients and their families have come to Sexner & Associates LLC with questions related to possible medical malpractice. Whether it's a clear case of malpractice, a strong hunch, or just a feeling that something went wrong, our experienced attorneys are always available to discuss the circumstances at no cost at all. Confidential and compassionate assistance is always available 24 hours a day.