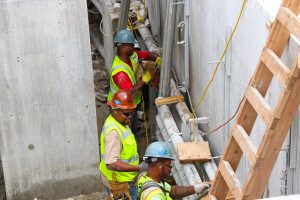 While working construction on a bridge along the I-90 highway in the Chicago suburb of Des Plaines, a worker was recently killed and three others were injured. The worker killed was a forty-eight year old man from Berwyn, who had a wife and four children.
Federal investigators from the Occupational Safety and Health Administration (OSHA) have investigated. They say that crews were working on steel bracing during the early morning hours, removing some beams and cutting bracing between them when a load of beams fell off a support and onto the group. The load weighed forty-five tons.
The victim's wife said that she was told he didn't suffer because the load hit her husband in the chest causing his immediate death. The other three people suffered minor injuries and were taken to local hospitals.
Early reports from OSHA claim that there may have been a failure in a strap that was supposed to support the beam. An OSHA representative went on to say that accidents like this can be avoided if employers follow all guidelines and rules set forth by OSHA. OSHA will be investigating the company that the worker was employed by, as well as the general contractor for the construction contract. The worker's company had been investigated before, due to practices in their other businesses.
Construction work is among the most dangerous of types of jobs as it often involves heavy lifting and heavy machinery. So the potential for extreme injury or sudden death is a constant presence. The workers compensation laws in Illinois are intended to help injured workers and their families in the event of such a tragic event. In other circumstances such as this accident when the strap may have broken, a products liability case may also be brought against the manufacturer.
If you or a loved one has been injured on the job, you may be entitled to workers compensation benefits to cover medical costs, lost wages, and other damages. Contact the experienced attorneys affiliated with Mitchell S. Sexner & Associates LLC to review your case and see how we can help you.
Please contact us at (312) 644-0444.
Source: http://abc7chicago.com/news/construction-worker-killed-when-45-ton-beam-falls-along-i-90-/1276868/