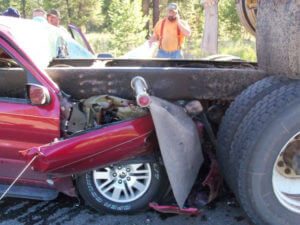 An underride truck collision is probably the most deadly type of vehicle accident, even at low speeds. This type of accident occurs when a car collides with a large commercial truck and runs under the truck. Large trucks weigh 20-30 times more than cars. They are taller and have more ground clearance which means that passenger vehicles are much more vulnerable in an accident. In 2014, 3,660 people in the U.S. died in large truck collisions; 68 percent of these fatalities were occupants of passenger vehicles. In an underride accident, in many cases, the roof of the car is sheared off, killing the passengers. Underride truck accidents may happen at the rear or side of the truck.
Causes of Underride Collisions
Poor visibility: The truck or trailer may not be properly marked or may have dirty or dim tail lights or malfunctioning brake lights. Bad weather or poor street lighting can also add to this problem.
Inadequate safety standards: In some cases the truck will not be equipped with safety guards, which are designed to prevent passenger vehicles from becoming trapped beneath the truck. In the U.S. rear guards are mandatory for large commercial trucks. Side and front guards however, are not. Sometimes, even if the truck does have guards, they are not big enough to prevent a car from sliding beneath.
Improper driving: Reckless and distracted driving can lead to fatal truck accidents. Following too closely, using a telephone and improper passing can cause the driver to lose control of the truck and can cause an underride accident. Making improper turns and improper lane changes also increases the risk of collision.
A truck underride accident is often fatal, but even when it is not, it can lead to serious physical and mental injuries, which have permanent or long-lasting effects. These injuries include:
Head injuries
Brain damage
Facial disfigurement
Broken bones
Paralysis
If you have been injured in a Chicago underride truck accident, or a family member has been hurt or killed in an underride truck accident, you should contact a personal injury lawyer right away. Here at Mitchell S. Sexner & Associates LLC, our legal team has experience with this type of personal injury claim and can get results. We can help you recover compensation for medical-related costs, lost salary, loss of quality of life, and costs of rehabilitation. Call us today at (312) 644-0444 and let us help you get back on the road to recovery.