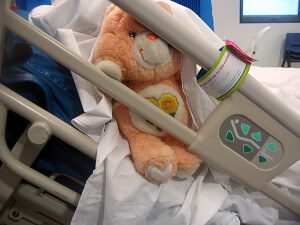 Where do you turn if you are sick and in need of immediate medical assistance? You turn to your nearest hospital emergency room, of course. If your circumstances can wait a day or two, you make an appointment with your doctor. But, when the situation is so serious that help is needed right away, you make the trip or call an ambulance.
Although such waiting room patients often include those with simple bruises, strains, and sprains, the line between life and death often hangs in the balance for others. Yet in every case, we depend on those specialized doctors and nurses. We expect them to use their expertise to quickly diagnose our problems and provide us with state-of-the-art medical treatment to help us in any way that they can. When hospital staff fails to do so, lives may be lost.
Recently, a Chicago jury awarded over $5 million to the family of a baby that died as a result of negligent emergency room medical treatment at Hinsdale Hospital. In that lawsuit, it was alleged that Emergency Health Care Physicians (now known as Illinois Emergency Medical Specialists) failed to properly treat a 7 year old child and committed medical malpractice. It was alleged that the child was given a sedative called Versed without properly hydrating the child first. As a result, the child could not properly absorb the drug and his heart rate slowed. He died soon thereafter.
For over 25 years, Mitchell S. Sexner & Associates LLC has helped clients injured as a result of medical malpractice and emergency room errors. We have collected tens of millions of dollars on their behalf. Call us any time of day for free information about how we can help you or your family member at (800) 996-4824.
Source: http://www.chicagotribune.com/suburbs/hinsdale/news/ct-dhd-hospital-verdict-tl-1029-20151026-story