Open Container Violations in Chicago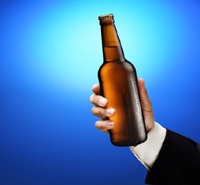 All across the State, in Chicago and other cities, police carefully monitor drivers to look for those committing DUIs. As a natural outgrowth of this attention on drunk driving, the legislature passed a law that criminalizes the transportation of open alcohol, regardless of whether the driver or passenger is intoxicated or not. In circumstances where alcohol is contained in the "passenger compartment" with a broken seal or when it's not in its original container, this may constitute a crime. So whether you are transporting a previously opened bottle of wine after leaving a party, or whether you have an alcoholic beverage in a plastic cup, neither one of these situations is allowable under the present law.
How to Determine if a Violation Has Taken Place in Chicago
The question of what constitutes a "passenger compartment" may play a large part at court in determining whether a violation has occurred. Most judges feel that the passenger compartment clearly includes the front seat and back seat area of a regular car. But what if the car is a minivan, SUV or station wagon with the alcohol located far in the back portion far away from the driver or other passengers?
Although most judges agree that alcohol stored in a locked trunk is not considered to be part of the "passenger compartment", what if the SUV doesn't have a locked trunk, but merely has a rolling cover for rear storage area? Another question that needs to be explored at court is whether the substance is in fact alcohol. Just because it is contained in an alcohol container or smells like alcohol does not necessarily mean that it is. Has it been tested or analyzed? Did the officer keep a sample for testing? Or did he just pour it out on the street and dispose of the container?
Fight an Open Alcohol Container Charge
An experienced Chicago DUI attorney will explore questions such as these in an effort to properly defend his/her client. At Mitchell S. Sexner & Associates LLC, our Chicago open alcohol container defense lawyers are all knowledgeable and aggressive proponents and ask important questions such as these in defense of our clients. So call today at (312) 644-0444 or (800) 996-4824 and learn how we can be of assistance to you. Our phones are open 24 hours.