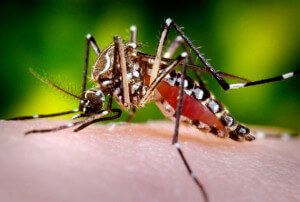 The Zika virus has recently been contracted by several pregnant Illinois women, according to the Illinois Department of Public Health. This virus, which is transmitted via the bite of an infected mosquito, produces symptoms that may include joint pain, fever, pink eye, and/or a rash. Although these symptoms typically last only a week or so and are considered mild in nature, the primary concern is the effect on pregnant women.
It is believed that the Zika virus may result in serious birth defects, including microcephaly and many such babies have died shortly after birth. The risk to pregnant women in the Chicago area, however, is virtually zero as the infected mosquitoes live in warmer climates in tropical countries. The Center for Disease Control (CDC) therefore warns pregnant travelers to take extreme care to avoid being bitten.
Although the Zika virus has been in the news recently, there are a number of other mosquito-borne viruses that exist, many of which you may not have heard of, including:
Eastern Equine Encephalitis (EEE): a rare illness found in both humans and horses
Western Equine Encephalitis (WEE): a disease transmitted by mosquitoes to both humans, birds and horses
La Crosse Encephalitis (LAC): transmitted by the tree hole mosquito, this viral disease may cause serious illnesses in children
West Nile Virus (WNV): Also transmitted to humans, birds, and horses, this disease may display flu-like symptoms and cause severe illness in some people, including the elderly
St Louis Encephalitis (SLE): This illness may result in periodic localized epidemics
Since 1990, the attorneys affiliated with Mitchell S. Sexner & Associates LLC have helped clients who have contracted illnesses and injuries.  Call us 24 hours a day at (800) 996-4824 for free information.
Sources:
http://www.chicagotribune.com/news/local/breaking/ct-illinois-zika-virus-20160119-story
http://www.health.state.mn.us/divs/idepc/dtopics/mosquitoborne/diseases