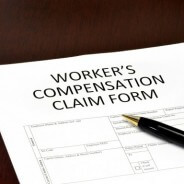 If you or a loved one has been injured at work, it may be difficult to figure out the right steps to take to ensure that your rights are protected and that you receive the compensation to which you are entitled. Filing a workers' compensation claim can be a complex and difficult process, especially for those who have never filed one before. Understandably, filing a workers' comp claim can be an added burden at an already stressful time for both the injured person and his or her family.
This is likely the moment when a claims adjuster from your employer's workers' compensation insurance company will call. He or she will try to convince you that your health and your rights are the company's paramount concern, but just because someone says it doesn't mean it's true. However genuine an adjuster may seem, he or she is still an employee of the insurance company. As such, he or she will more than likely do what's in the best interest of the insurance company, which may conflict with what's in your best interest. Therefore, the claims adjuster is not the person you should entrust with your workers' compensation benefits.
At Sexner & Associates LLC, we guarantee that we are on your side and will provide legal guidance that's in your best interest. When we take on a workers' compensation case, we always aim for the maximum amount of benefits allowed by law. Our network of attorneys has the extensive experience with workers' compensation law and the knowledge of all statutes and rules of the Illinois Workers' Compensation Commission.
Call us today for a free, no-obligation consultation. Talk to one of our attorneys to find out how our law firm can help with your specific case. Let us be your advocates as you focus on your recovery. We receive no fees unless we are successful on your behalf.