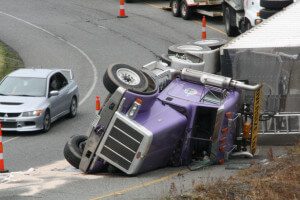 Large truck vs. passenger vehicle accidents are incredibly dangerous events. A large commercial truck can weigh up to 20,000 pounds. Because of the severity of accidents involving large trucks and passenger vehicles, drivers and passengers of smaller vehicles often suffer crippling or fatal injuries. According to a study undertaken by the Federal Motor Carrier Safety Administration (FMCSA), truck rollover accidents are the most common type of large truck accident. These accidents occur when the trailer of a semi-truck rolls over onto its side.
Causes of Illinois Truck Rollover Accidents
There are four main causes of Illinois truck rollover accidents. These causes include:
Failing to control speed: Truck drivers should adjust their speed to suit oncoming bends in the road. Inappropriate speed at bends and at "on" or "off" ramps is the main cause of rollover crashes.
Truck driver distraction: When truck drivers fail to pay attention to the road and other vehicles or are distracted or sleepy, this can lead to a sudden change of driving direction, which can easily cause a rollover.
Improper steering: If a truck driver over-steers for some reason, or does not steer adequately enough to remain in the correct lane, he will have to counter-steer. This is another cause of rollover accidents.
Improper loading: When a driver fails to take into account the weight, distribution or security of their load, the load can shift significantly during the truck's journey. A sudden movement of the load and redistribution of weight can cause the truck to roll over.
Who is Responsible for Illinois Rollover Truck Accident?
Liability issues in instances of large truck vs. passenger vehicle accidents can be complex. In order to determine who was at fault, your case will require a detailed investigation and possible accident reconstruction. However, if it appears that the accident was due to one of the above reasons, or your attorney believes that he/she can prove the truck driver's negligence under another theory of law, then you and your family should promptly pursue a personal injury claim to compensate you for all the damages suffered in this trucking accident.
But in cases like this, the time clock is ticking. Immediately after the accident, you can be assured that the trucking company contacted their insurance company. Since the insurance company is not interested in paying out large amounts of money, you can be assured that they are taking whatever measures necessary to increase their chances of winning and to decrease yours. In some circumstances, potential truck evidence or truck parts may even be destroyed. An experienced and aggressive trucking attorney can take measures to stop this from happening.
If you or a loved one has have been injured in a rollover truck accident in Chicago, you will need to talk to an experienced personal injury lawyer straight away. Our team of legal professionals at Mitchell S. Sexner & Associates LLC have years of experience handling this type of case. Contact us today to find out how we can help you collect the damages you deserve. Mitchell S. Sexner & Associates LLC can be reached at (312) 644-0444.