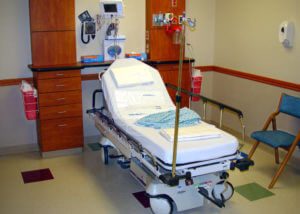 University Hospital has changed the way it deals with patients in its psychiatric unit who are aggressive. This change in policy was prompted by the death of a patient in 2010 and the subsequent lawsuit that was filed.
In this case, while in the hospital's care, a mental health patient died when the local police used a taser and then restrained him in their attempt to arrest him. The hospital has settled with the patient's estate and also plans to change its policy as the result of this death. The hospital will now hire its own security force that will be trained specially to deal with these types of patients to avoid escalations that have the potential to result in tragedy. This situation might have been avoided if the police understood what they were dealing with and how to better manage the situation (and not exacerbate it).
What Happened?
According to reports, a patient suffering from bipolar disorder, delusions, and paranoia was being hostile toward other patients, so the staff medicated and isolated him. He was moved to a room by patient-care representatives where he could rest comfortably and would not cause harm to himself or others. The police then decided that they needed to arrest him for assaulting a police officer, in addition to three other charges.
This decision sent a group of officers into the room and backed the patient (who was paranoid and delusional) into a corner. At this point the patient started making threats and began fearing for himself and his freedom. Video then shows that the police discharged their tasers to get the situation and patient under control (after police claim he lunged at them). They continued their attempts at restraint when finally the patient stopped struggling and became unresponsive. Emergency resuscitation was attempted, but it was too late and the patient died.
Who Was to Blame?
It was alleged that the shift of responsibility from hospital staff to police happened too soon in this case, and that is what led to the patient's death. A properly trained team would have known that the use of force on a patient with these issues was bound to create more excitement and possibly aggression as opposed to a calming influence. A police officer's job in a case such as this is often difficult since officers may not have the training and knowledge necessary to understand and diffuse these types of situations. That is why medical personnel remaining in control might have been beneficial. The settlement also required the formation of an advisory panel to watch over future situations in an effort to prevent something like this from ever occurring again.
If you or a loved one has been the victim of substandard care, abuse, medical malpractice, or police brutality, you need an aggressive attorney to represent you and stand up for your rights. The attorneys associated with Mitchell S. Sexner & Associates LLC have been defending the rights of individuals for over 25 years and have collected millions of dollars on their behalf. Call our Chicago personal injury attorneys for a free case analysis at (312) 644-0444 to see if we can help you.