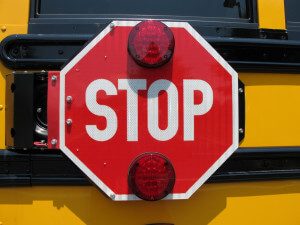 North of Chicago in Beach Park Illinois, a school bus that stopped in traffic with 56 students onboard was rear ended by a semi-trailer truck. That bus was then pushed into another semi-trailer truck that was stopped in front. As a result, nine children were injured and transported to Vista West and Vista East Hospitals in Waukegan for treatment of non-life threatening injuries.  Other students were transported back to school after parents were contacted to pick them up.
The semi-trailer truck driver from Gurnee that caused the crash was charged with various traffic tickets which included failure to reduce speed to avoid an accident, failure to display a driver's license, and no proof of insurance.
School buses present enhanced dangers and special concerns for drivers that travel the same roads. By their very nature, buses stop often to load and unload children. Other drivers, often in a hurry or pressed for time can sometimes become impatient, trying to pass the school bus before the warning lights are displayed. Other times, drivers may be taken by surprise when a bus seemingly stops without warning. Because school buses carry children who are sometimes special needs or prone to injury, any accident has the potential to injury many passengers.  Partially for this reason, laws in Chicago and across Illinois are often enhanced when school buses are involved, carrying harsher penalties which sometimes may include jail.
If you or a loved one has been involved in an accident involving a bus or any vehicle, contact Mitchell S. Sexner & Associates LLC for free information. No fee is ever charged unless we win on your behalf.  Millions have already been collected. You can reach us any time of day or night at (800) 996-4824.
Source: http://chicago.suntimes.com/news/7/71/1266650/9-students-injured-school-bus-accident-beach-park