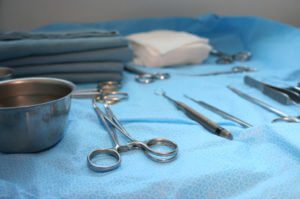 Two patients infected with a strain of bacteria resistant to drugs (called a "superbug") filed a lawsuit against the manufacturer of the scope that was used in their procedures. An 18-year-old student fighting a severe infection, along with the family of another woman who died from the infection, sued the manufacturer of the medical devices known as a duodenoscopes.
This scope is used in many gastrointestinal procedures and is threaded through the mouth to the stomach.
The lawsuit alleged that the reusable scopes were unsafe because after a re-design of the scope, the cleaning protocols weren't updated and published. It is difficult to properly disinfect the unit, which is why accurate and up-to-date disinfecting procedures are critical. The suit claims there was fraud and negligence on the part of the manufacturer. The claimants are seeking unspecified damages for injuries and, in the case of the woman, her resulting death.
At the point in time that our source article was written, the UCLA hospital and its staff were not included as defendants since it appears that they followed proper protocols when cleaning the reusable scope. There were additional patients allegedly infected by the bacteria as a result of the use of the duodenoscopes, bringing the total to seven victims, two of whom died as a result. More than 100 patients in the hospital may have been exposed to this drug-resistant bug.
What Type of Lawsuit Would That Be?
This type of lawsuit is generally referred to as a product liability lawsuit, which is usually filed against manufacturers of products alleged to be defective in some way. Depending upon the circumstances, such a lawsuit may allege that the medical device was negligently manufactured, designed, or marketed.
In this particular circumstance, the plaintiffs (so far) are not suggesting that the doctors, hospital, or medical staff failed to properly clean the instruments; merely that staff wasn't given proper information from the manufacturer about how to accomplish this task. But there are a great many other cases each year in which a medical malpractice case is filed against medical staff specifically for failure to properly disinfect medical devices.
If you have been the victim of negligence as a result of any medical or hospital procedure, the attorneys with Mitchell S. Sexner & Associates LLC may be of help. Our experienced, knowledgeable, and aggressive attorneys can make a difference. Call us at (312) 644-0444 for a free case analysis to see if we can help you.