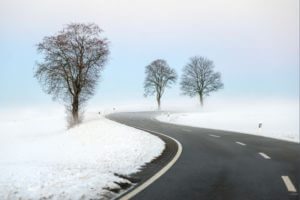 The winter holidays are some of the busiest times of the year for travelers, with millions of people driving short and long distances to be with family and friends. In Chicago, this can also be an especially dangerous time to be a driver, since wintery conditions from snow, ice, and slush create numerous hazards that can result in accidents and injuries. With a little preparation and care, however, you can get ready for the holiday traffic and keep your loved ones safe.
It is a good idea to get your vehicle serviced going into the holiday season. This means having the entire vehicle checked by a professional to ensure there are no leaks, worn hoses, or parts in need of repair or replacement. Breaking down in the middle of a snowstorm can be a major inconvenience, or even potentially fatal. You should also check your battery and make sure that it has sufficient voltage, replacing it if necessary.
Check your coolant levels to make sure they are full and use a proper coolant to weather the harsh Chicago winter. You also want to have non-freezing fluid in your windshield washer reservoir, and check your wipers and defrosters before the cold weather really hits. Make sure your floor mats are the correct size so as to not interfere with your accelerator and brake pedal, and replace your mats if necessary.
Be sure to fully inspect your tires before winter hits. Make sure they maintain pressure and keep their pressure at proper levels, especially after your vehicle has been sitting in the cold for several hours. Check the age of your tires and make sure they still have at least 1/16th of an inch of tread to maintain proper friction when driving on slippery roads. If your tires are many years old, then it may be time to replace them, even if you cannot readily perceive any damage or wear to them.
It is always a good idea to be familiar with your vehicle, but this is especially true in winter weather. Practice driving in slippery conditions away from main roads, especially if you do not have much experience with winter driving, and learn how your brakes feel on water, ice, and snow. Be sure to slow down during bad conditions.
You should also plan out your travel route and let others know exactly where you plan on driving, in case your vehicle breaks down or is detained. It is always a good idea to stock up your vehicle with tools such as a shovel and ice scraper, jumper cables, a flashlight, and blankets. If you plan on driving a long distance through winter weather, have some food and water and even a first aid kit in your car just in case of an emergency.
Following these steps can keep you and your loved ones safe this winter. Of course, there is no way to know what another driver will do on slippery Chicago roads. If you have been injured in an accident, then contact the Chicago car accident lawyers at Mitchell S. Sexner & Associates LLC at (312) 644-0444 today to discuss your case with an experienced personal injury lawyer.