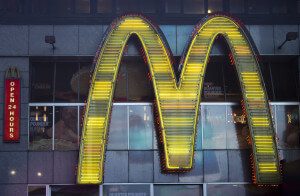 Dozens of workers across the country have filed federal complaints against McDonalds. The complaints detail employees getting injured on the job and not being provided with adequate first aid and attention. In one specific local example, a Chicago worker claimed that after burning her arm, her manager told her to put mustard on it. The worker ended up at the hospital because the burn required medical attention. In another example, an employee burned himself above his eye when he pulled something from the oven, but found no first aid supplies at all. He was simply told to put butter on it and return to work. As you might imagine, this type of condiment-based treatment is not widely accepted in the medical community.
Organizers with the group "Fight for 15" claim the work environment is dangerous because of greasy and slippery floors, in addition to the constant pressure to work fast. They also allege that a lack of any protective gear makes conditions unsafe as well.
McDonalds will review the complaints, and says they are committed to providing a safe work environment. But they also suggest that these complaints may be part of a bigger plan by activists to gain attention.
According to a study done for the National Council for Occupational Health and Safety, safety issues are a concern industry wide, and in the last year nearly 80% of fast food workers suffered burn injuries on the job.
Have you been injured on the job? At Mitchell S. Sexner & Associates LLC we have experience with all types of work related injuries and claims. Contact us to review your case free of charge and to learn how we can be of help.
Call us at (312) 644-0444 any time of day.
Source: http://www.nydailynews.com/news/national/mcdonald-workers-allege-injured-job-article-1.2151722