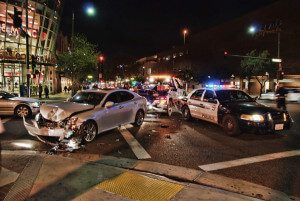 One person was taken into custody and five others were hospitalized with life threatening injuries following an automobile accident in the Belmont Cragin neighborhood of Chicago.
As reported by ABC 7, the collision happened early Friday morning near Cicero and Armitage Avenues. One vehicle struck another as the two cars were heading south on Cicero, sending both into a CTA bus stop before finally coming to rest along the sidewalk. Debris from the collision smashed the front window of an appliance store nearby. Two people riding in the cars involved in the accident were taken to Mt. Sinai Hospital. Three people injured on the street were transported to Stroger Hospital.
A witnesses to the crash stated, "It was like an earthquake, the whole building shook with that stuff flying into it. It scared the living hell out of me."
The street remained closed for most of the morning. Bus routes were rerouted while police investigated the scene. Investigators are unclear how the accident happened, but one of the drivers remains in custody.
Unfortunately, this type of car accident is all too common along Illinois streets and highways. If you've been injured or lost a loved one in a similar collision, contact the injury attorneys at Mitchell S. Sexner & Associates LLC today.
You can reach us at (312) 644-0444.
Source: http://abc7chicago.com/news/5-critically-injured-in-crash-on-nw-side/1047239/