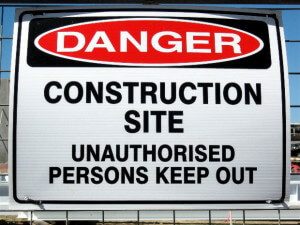 A construction site is an incredibly dangerous place to work. Heavy objects and heavy equipment are everywhere. Multiple tasks are being performed at the same time in close proximity with other related tasks. Teams of electrical, HVAC, plumbing, and building workers are all occupying the same space and are expected to perform what amounts to a carefully orchestrated ballet. Of course, the potential for dangerous situations exists as a result. Almost anything can happen at any time.
According to the Occupational Safety & Health Administration (OSHA), there a four leading causes of death in the construction industry (known as the "Fatal Four") which accounted for over 500 deaths last year. The Fatal Four injuries are:
Falls (falling from any device, structure or building)
Electrocutions (suffering an electrical injury)
Being caught in between objects (including moving mechanical devices)
Being struck by an object.
This last type of injury was the cause of a recent construction death that happened recently in the South Loop of Chicago. A 39 year old worker was struck in the face and died on the scene after an object was hurled his way while testing air pressure equipment.
Whenever a person is injured or killed as a result of an on-site injury, it is very important to immediately consult with a Chicago personal injury attorney who is knowledgeable in this particular area. You can call the law offices of Mitchell S. Sexner & Associates LLC any time of day to discuss your individual circumstances free of charge. Our phone number is (312) 644-0444.
Source: http://abc7chicago.com/news/worker-killed-in-south-loop-construction-accident/1047674/