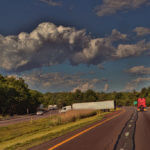 Accidents involving commercial trucks can cause an injury which is serious or fatal. According to the Federal Motor Carrier Safety Administration, in 2011 there were 273,000 accidents throughout the United States involving large trucks, and 3,341 of these injuries resulted in fatalities.
In Illinois there are a number of state and federal laws that apply to commercial trucking companies. These are set in place to ensure that specific industry standards are followed by both the drivers and owners of 18-wheel vehicles. Determining who is liable to pay damages as a result of an accident can be a very complicated procedure.
Common Types of Commercial Truck Accidents
There are a number of common scenarios that can lead to serious commercial truck accidents. Here is a rundown on some of the most common ones.
Jackknife accidents: This type of accident is caused when the truck's trailer axle brakes seize. This causes the trailer to skid. It will only stop when it reaches a 90 degree angle to the truck's cab which will result in the truck rolling over.
Rollover accidents. This can be due to steep hills, fast speeds, taking a curve too fast or when a driver tries to compensate for a drifting trailer.
Rear-end collisions. Heavy trucks require a longer stopping distance. When the driver misjudges this distance, the chance of this type of accident increases.
Underride accidents. Often the most fatal type of accident, this occurs when the truck is hit by a smaller vehicle that goes underneath the rear or side of the trailer.
Truck vs. motorcycle accidents. These can occur when the two vehicles have difficulty sharing the road or because of the truck driver's blind spot.
Truck driver DUI. Truck drivers should not be driving under the influence of alcohol as this will considerably increase their risk of causing accidents.
Road construction. Road work zones can be areas of potential hazard. If a driver of a large truck is having difficulty maneuvering their rig, or is distracted or behaving negligently, an accident in a construction zone can cause injury or death to other motorists or construction workers.
Brake failure accidents. These can be caused if the brakes are old, improperly installed, poorly maintained, or by stopping suddenly at high speeds.
If you or a loved one were recently involved in an accident involving a commercial truck, such as a semi or an 18-wheeler in Illinois, you're probably wondering what you should do next. Call us at (312) 644-0444. Here at Mitchell S. Sexner & Associates LLC, our Chicago Commercial truck attorneys can help you stand up for your rights in your personal injury case.